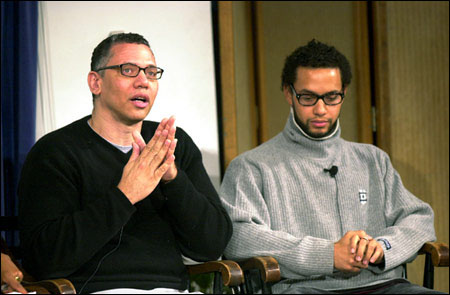 Does jazz belong to Louis Armstrong or Benny Goodman? Does Dr. Dre have more of a claim on hip-hop than Eminem?
And what does it mean that, throughout history, white artists have copied music that's sprung from the African experience?
A panel of music industry leaders probed these questions in a discussion called "Whose Music Is It Anyway? Thinking About Jazz, Rock 'n' Roll, and Hip-Hop – Past, Present and Future," which opened the Black Arts Festival Friday (Feb. 28). The event, co-sponsored by the Institute of Politics, packed the ARCO Forum.
MTV personality Ananda Lewis, Avatar Records president Larry Robinson, music video director Little X, and Vanessa Jones, pop culture and lifestyles reporter for "The Boston Globe," shared their insiders' perspectives on white musicians inspired by black music, the perils and promises of increasing black ownership of black music, and the disturbing sexism especially prominent in hip-hop videos.
Ingrid Monson, Quincy Jones Professor of African-American Music and moderator of the panel, gave a context to the discussion. Underlying the debate over ownership of black music, she said, is the long history of racial segregation and discrimination in the music industry and the undeniable debt owed to the black musical aesthetic. In addition, she noted that other ethnic groups looked to the African-American experience primarily for its "fun" parts, chiefly music.
"People say, 'Wow, let's go hear Miles Davis or The Roots,' but not, 'let's go get racially profiled on the New Jersey Turnpike,'" said Monson.
The sincerest form of flattery
Imitation is flattery, the panelists concurred, but give black music its economic due and black musicians control over their industry.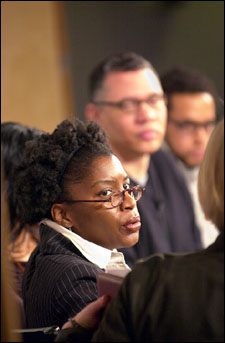 Black music has always been innovative, said Robinson, citing Louis Armstrong, Count Basie, Miles Davis, Jimi Hendrix, and the Bomb Squad as breaking new ground on their respective instruments and genres. And other ethnic groups have always embraced it.
"I don't have any problem with that," he said. "I think it's exciting [that] when you go to Japan you have Japanese kids with their pants sagging, their hat on backwards wearing a Wu-Tang Clan T-shirt and dreds."
The downside, he said, is blacks' limited ownership of the publishing, distribution, and media surrounding black music.
"Black folks don't own anything in the United States, much less in the music business," said Robinson. "What I think is not cool is that we own so little so most of the economic benefit that comes from this music doesn't go to us."
If creators of black music are not reaping economic benefits, they are getting credit. Around the world, said Lewis, people point to hip-hop not as simply American music but black music.
"This is our gift that we were given, from God, and it's our gift that we give everyone else," said Little X. "It's a compliment when someone wants to do what you do." Neither Elvis Presley nor Eminem, two white artists who popularized black music to a white audience and gained far more recognition than their black counterparts, can erase the link of black music to the African experience, he said.
The panelists acknowledged that blacks now have more economic control over their music than in previous historical times, with high-profile rappers launching production companies and record labels.
"Our history has taught us, as African Americans, that we have always risen above our challenges through entrepreneurship," said Lewis, adding that black youth have also always emulated their heroes of the older generation. She sounded a caution against showing kids a lopsided image of black music ownership, one that focuses on jewelry and money and not the hard work and business acumen.
'Why are those girls naked?'
Jones, who regularly reviews hip-hop and R&B for the Globe, described the media's changing role in the way it covers black music. Little X took the hot seat for video's role in presenting black music in a highly sexualized way.
"Why are those girls naked?" Robinson asked provocatively, drawing laughter and applause.
Little X chronicled the flashpoint moments that brought "booty videos" to the fore in the 1990s, adding that he was fighting to bring intelligence to the genre.
"Sew diamonds onto the thong," advised a sharp-tongued Lewis. "Bring it up a level."
The panelists urged audience members to wrest control from media moguls by voting with their dollars, voices, and remote controls.
"As African-American women, if we're really sick of that image, we have to make that known," said Lewis, invoking the spirit of protest prevalent in the 1960s and '70s.
"It's up to us and up to y'all because you get the entertainment you want," added Robinson. "If this has reached a level where it's really offensive to you, then it's incumbent upon you and your friends to organize and protest."