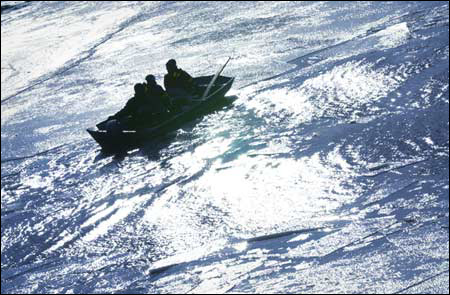 More intrepid than Sir Ernest Shackleton and his Endurance team … staring down icebergs with the swagger and bravado of the Titanic … it's the Harvard crew coaches and their effort to free the Charles River from its icy winter stillness.
An annual rite of spring, this year's ice breaking is one of the latest since the teams have kept records, according to Newell boat builder Joe Shea. Last week's subfreezing temperatures and the Arctic winds that whipped down the river made spring a concept based more on faith than reality.
But with racing season rapidly approaching – men's first competition is April 5; women race March 29 – and the Crimson's southern competitors already dipping their oars into the practice waters, the crew coaches persevered, tackling room-size ice floes with two-by-fours and garden tools. Between the Anderson and Eliot bridges, where the men's coaches toil out of Newell Boathouse, just the wake of their motorboat goes a long way toward breaking up the ice.
Not so below the Anderson Bridge, by Weld Boathouse, where women's coaches Cecile Tucker, Holly Fling, and Liz O'Leary braved frigid temperatures last week to coax large sheets of ice downstream. They repeatedly grounded their Boston Whaler on a floe then motored it downstream, with Tucker and Fling, in rubber boots and head-to-toe foul-weather gear, occasionally hopping out to poke and prod.
"Nobody's gone through, to my knowledge," says Shea, "but we certainly don't recommend walking on the ice by any means."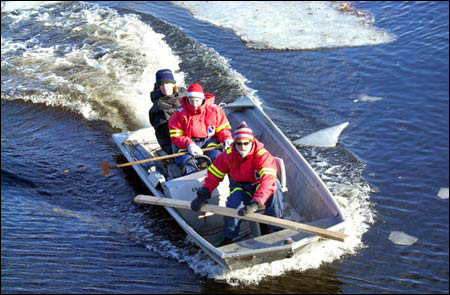 Last Tuesday (March 11), after several days of ice breaking, Harvard's rowers reaped the rewards of their coaches' labor: the men's team took a few strokes in a narrow channel of open water near Newell Boathouse, and women followed the next day.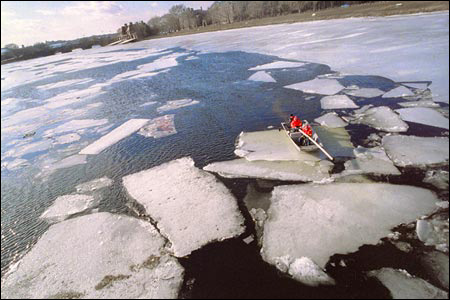 Not content with a few yards of open water, the coaches in their small boats ("they're nonsinkable," Shea says, but who doesn't know the fate of "unsinkable" boats and big chunks of ice?) will work the river daily until it flows free. That day, unlike collegiate racing schedules, is hard to pinpoint.
"It depends on what Mother Nature throws at us," says Shea.