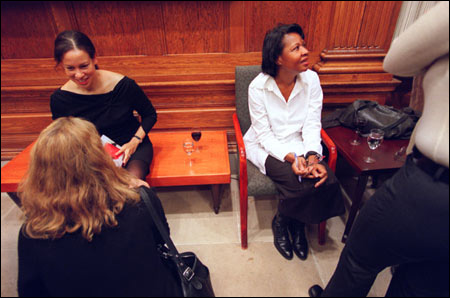 Authors Jamaica Kincaid and Andrea Lee '81 kicked the W.E.B. Du Bois Institute's Black Writers Reading series off to a rousing start Wednesday evening (Feb. 5), bringing a standing-room-only crowd to the Barker Center's Thompson Room. The women, who were contemporaries on The New Yorker staff and who both have daughters entering Harvard's class of 2007, read from their very different styles of fiction.
Kincaid, a former visiting professor in Harvard's English and Afro-American Studies Department, was born Elaine Potter Richardson on the Caribbean island of Antigua. She came to New York to work as an au pair as a young woman, then launched her literary career from The New Yorker under editor William Shawn. Her work includes "Annie John," "My Mother," "Lucy," and "A Small Place," a sharp criticism of the impact of colonialism on her native Antigua.
Kincaid, whose most recent book, "Mr. Potter," is set in Antigua, read two stories from her first book, "At the Bottom of the River." Published in 1983, the collection of stories was an attempt, she said, to invent a kind of fiction that had never been done before.
"You're just horrible when you're young," she said of her youthful writing style. "You should be horrible when you're young, because it doesn't look good when you're old, to be horrible."
Kincaid read "What I Have Been Doing Lately," an impressionistic dreamscape that was originally published in The New Yorker. The cadence of her words brought comforting familiarity to her abstractions: "I came up to a big body of water. I wanted to get across it but I couldn't swim. I wanted to get across it but it would take me years to build a boat. I wanted to get across it but it would take – I didn't know how long to build a bridge."
A lush, poetic tale of journey and wandering, "What I Have Been Doing Lately" taps into the excitement, fear, and longing of leaving one place for another.
"I thought, 'if only just around the bend I would see my house, and inside my house I would find my bed, freshly made at that, and in the kitchen I would find my mother, or anyone else that I loved, making me a custard,'" she read.
"My Mother," one of just three stories from "At the Bottom of the River" not published in The New Yorker, explores a mother-daughter relationship, a theme that runs through much of Kincaid's work.
"Immediately on wishing my mother dead, and seeing the pain it caused her, I was sorry and cried so many tears that all the earth around me was drenched," Kincaid began.
Through merging and separation, awe and anger, bids for approval and assertions of independence, Kincaid illustrates the complexities of the relationship between mother and daughter, sometimes drawing on fantastical images, other times on straightforward language and simple prose.
"I had grown big, but my mother was bigger, and that would always be so," she read.
Lee's Philadelphia story
Andrea Lee, jet-lagged from the trip from her home in Italy, warmly recalled some less literary experiences she and Kincaid shared at The New Yorker. Of their midday shopping excursions in New York, Lee said, "I felt hopelessly conventional."
Lee is the author of fiction and journalism, including the non-fiction "Russian Journal." Like Kincaid, she returned to her earliest work, reading from a story originally published in The New Yorker, "New African," from her 1984 novelistic collection "Sarah Phillips."
In related stories, "Sarah Phillips" tells of the coming-of-age of a middle-class black woman in Philadelphia, Lee's hometown. The tightly crafted "New African" is set in the church where the 9-year-old protagonist's father is minister. She watches with fear and fascination as a group of adolescents from the church prepare to be baptized.
From the bony lap of church elder and sometimes caretaker "Aunt" Bessie – "She talked in ways that were already passing into history and parody, and she wore a thick orange face powder that smelled like dead leaves," Lee read – young Sarah defied the call to "go on up and face Jesus" herself.
As Sarah escaped from Aunt Bessie's physical and spiritual grip, "It was the first time I had won a battle with a grown-up, and the earth seemed about to cave in," Lee read. She moved through adolescence to young adulthood unbaptized, continuing to attend New African.
"I saw myself as a romantically isolated religious heroine, a sort of self-made Baptist martyr," Lee read. "At other times, I had a feeling of loss that I was too proud to acknowledge."
Lee then read "Brothers and Sisters Around the World" from her most recent collection of stories, "Interesting Women." The protagonist, a black woman vacationing in Madagascar with her "French gentleman adventurer" husband and 4-year-old son, disrupts the equilibrium of their host village when she slaps a young woman who is flirting with her husband. Gossip "flashes … with electronic swiftness" through the village, and the protagonist's pride and shame, remorse and revenge tumble together in the aftermath.
The protagonist faces the locals bravely – they are largely supportive – but struggles when she re-encounters the young seductress and her friend.
"Now, in this troublesome way, our connection has been established," Lee read. "And between my guilt and my dawning affection, I suspect I will never get rid of these two."
Lee and Kincaid's readings were the first of 14 in the weekly Black Writers Reading series (see sidebar). In his introduction to the series, Henry Louis Gates Jr., W.E.B. Du Bois Professor of the Humanities and director of the W.E.B. Du Bois Institute, described the participants as writers "weighing concerns with race matters against concerns with craft matters." They all, he said, "take for granted the simple proposition that the particularity of the black experience is the stuff of art."
Black Writers Reading Series
Feb. 19, 4 p.m.
Helen E. Lee and Randall Kenan
Carpenter Center, Room B-04
Feb. 26, 4 p.m.
Edwidge Danticat and Colson Whitehead
Barker Center, Thompson Room
March 5, 5 p.m.
Rita Dove and John Wideman
Sackler Lecture Hall
March 12, 4 p.m.
Elizabeth Alexander and Suzan-Lori Parks
Carpenter Center, Room B-04
March 19, 4 p.m.
Maryse Condé and Darryl Pinckney
Barker Center, Thompson Room