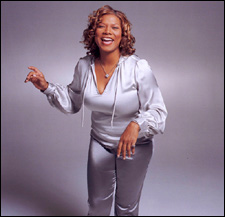 Oscar nominee and Grammy Award winner Queen Latifah has been selected the 2003 Artist of the Year by the Harvard Foundation for Intercultural and Race Relations. Latifah will be awarded the foundation tribute at Harvard's Annual Cultural Rhythms Festival on Saturday (Feb. 22).
"We are delighted that Queen Latifah will come to Harvard to receive this very special recognition," said Harvard Dean Harry R. Lewis. "Because of her outstanding artistic work in film and music, and her humanitarian support for needy college-bound students through her scholarship foundation, Harvard is proud to honor her achievements and acknowledge her fine example."
Queen Latifah has been nominated for Best Supporting Actress by the Academy of Motion Picture Arts and Sciences for her outstanding performance in this year's blockbuster film "Chicago." After making her feature film debut in Spike Lee's "Jungle Fever" (1991), Latifah appeared in such films as "Living Out Loud" (1998), "The Bone Collector (1999)," with Denzel Washington, and "Brown Sugar" (2002). Her latest film, "Bringing Down the House," with Steve Martin, is due in theaters on March 7. She also had a very successful five-year run in the Warner Bros. television hit series "Living Single," and starred in the CBS miniseries "Mama Flora's Family."
Queen Latifah is equally acclaimed for her musical talent as a singer and rapper. She has recorded numerous Grammy-nominated albums, including "All Hail the Queen" and "Nature of a Sista." And, in 1994, she won a Grammy in the Best Rap Solo category for "U.N.I.T.Y." She is also an entrepreneur, artist manager, and record label CEO.
"Queen Latifah is one of the most versatile talents in American performing arts today," said S. Allen Counter, director of the Harvard Foundation. "In addition to her extraordinary work as a musician and actress, she is an outstanding social advocate and a pillar of female strength. She is an excellent role model and source of inspiration for young people of all backgrounds."
The Harvard Foundation initiatives honor the nation's most acclaimed artists and scientists each year. The award bears the signatures of President Lawrence H. Summers, Dean of Harvard College Harry R. Lewis, and Harvard Foundation Director Counter. Previous Artists of the Year have included Denzel Washington, Andy Garcia, Will Smith, Matt Damon, Halle Berry, Jackie Chan, and Jimmy Smits.