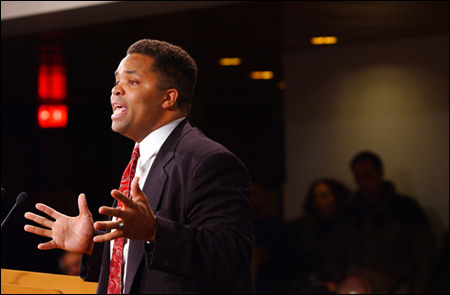 Citing the Constitution's function as establishing a "minimum floor beneath which no American or state law can fall," Rep. Jesse Jackson Jr. (D-Ill.) made the case at the ARCO Forum Monday night (Feb. 24) for two new constitutional amendments to guarantee "equal quality education" and "basic health care" for all Americans.
Jackson assailed the current system for funding public education in the United States, decrying its dependence on local property taxes. He cited as examples public schools in Washington state, where computer laptops are provided to all students, as compared with schools in Chicago that are overcrowded and under-financed.
"The word 'education' does not exist in the Constitution, and therefore, the right to an education in America is a state right," he told the Kennedy School audience. "It is time we move this democracy forward for every American. Every American deserves the constitutional right to a public education of equal high quality – a 28th amendment. These rights are inalienable and I'm arguing that we should be fighting for inalienable rights."
While answering a question later from a member of the audience, Jackson also defended the concept of affirmative action, which has come under increased criticism in recent years. "Affirmative action doesn't just apply to African Americans," he said. "The primary beneficiaries of affirmative action are women in our nation who have been denied equal opportunity at every level in our society." Jackson called for equal pay for equal work pointing out that women, on average, earn 70 percent of what men earn for the same job.
Jackson also took aim at the nation's health care system, saying there is "no commitment from the federal government to ensure that every American has basic health care." He continued, "It is time to move our nation from a discussion over medical savings accounts and universal comprehensive health care to whether or not we Americans believe that the right to health care is a more important right in our country than the right to a gun."
At several points during his presentation, the Illinois congressman referred to his father, civil rights leader Jesse Jackson, saying the two often had disagreements about his agenda. "My father thinks it's impossible to amend the Constitution and it takes too long," Jackson said. "Amending the Constitution of the United States is only a matter of our capacity to convince every American that we should."