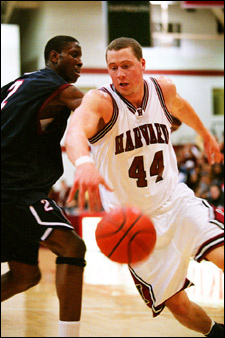 The Harvard men's basketball team reached a milestone of sorts this past weekend. Unfortunately for the Crimson, it entailed losing three straight games to some of the Ivy's finest (and not-so-finest) basketball clubs.
In dropping a trio of contests, the Crimson fell below .500 for the first time all season long. Posting a 3-7 record in league play (11-12 overall), Harvard is currently tied with Cornell for fifth place.
The Ivy slip started on Feb. 15 when the Big Red handed the host Crimson an 82-69 pink slip. A 16-point loss to hot-shooting Pennsylvania this past Friday (Feb. 21), and a heartbreaking 67-66 upset against Princeton on Saturday (Feb. 22) extended the slide to three games.
In the Friday night game, the Quakers proved too heated for Harvard with four Penn players scoring in double digits en route to the 82-66 victory. Penn shot more than 50 percent (16 of 31) from behind the arc for 48 points.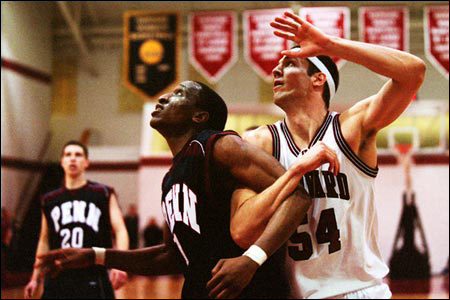 Elliott Prasse-Freeman '03 – the Ivy League's all-time assist leader with 671- paced the Crimson with 13 points and 10 assists, while Sam Winter '03 notched 10 points. And though Harvard thrice managed to shave the Penn lead to under eight points in the second half, the Quakers – up 63-56 with just over 10 minutes remaining – put it out of reach with an 8-0 run.
Saturday's matchup had more than a passing feel of déjà vu, as Harvard found itself- for the third straight year – in a last-second battle against the Tigers. After rallying from an 11-point deficit to cut the lead to one, Prasse-Freeman missed the runner with no time remaining, to secure the slight Princeton victory.
Brady Merchant '03 hit 6 of his 9 three-point attempts to pace the Crimson with 22 points. Freshman center Brian Cusworth had 13 points and six boards.
Harvard hits the road to redemption this Friday (Feb. 28) and Saturday (March 1) when the Crimson travels to Cornell (8-15, 3-7 Ivy) and Columbia (2-21, 0-10 Ivy) for the Crimson's final two road games of the season.