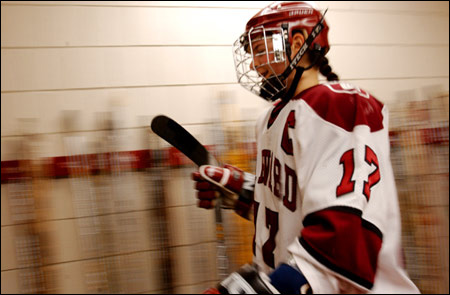 After 20 minutes of hockey in the Beanpot title game this past Tuesday (Feb. 11), it looked as if the visiting Boston College women's hockey team – down just two goals against the nation's No.1 team – had recovered from its 17-2 spanking delivered by the Crimson just two weeks prior. That is, until freshman Julie Chu, a mere 38 seconds into the second frame, chipped a shot past B.C. netminder Lisa Davis to put Harvard ahead 3-0. And then the flashbacks began for the Eagles, as Harvard cruised to a 7-0 win for their fifth straight Beanpot championship.
In capturing the title (the program's ninth), five Harvard seniors – Jennifer Botterill, Tracy Catlin, Jamie Hagerman, Kalen Ingram, and Pamela Van Reesema – can conclude their Crimson careers perpetual Beanpot champions. The victory also marked Harvard's 17th straight win, a national best, while improving the team to 20-1-0. The Crimson defense limited B.C. to just eight shots on goal in earning their ninth shutout of the season (a new school record). With the loss, the Eagles slipped to 10-13-3.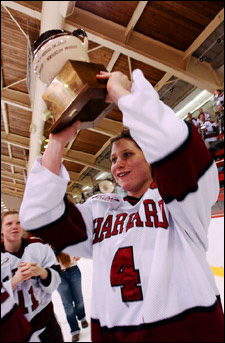 Team captain Botterill, named most valuable player of the tournament, finished the night with three goals and two assists. Following Chu's second-period tally, Botterill notched two consecutive goals to complete the hat trick, first deflecting a rebounded puck past Davis at 3:15, and then, nearly 12 minutes later, capitalizing on a beautiful Chu feed to increase the Crimson lead to 5-0.
With five ticks remaining in the middle stanza, sophomore Ashley Banfield picked up her fourth goal of the season to further outdistance the Eagles, 6-0. Chu earned her fourth assist of the game when she found an open Lauren McAuliffe '04, who capped the Crimson onslaught at 11:55 of the final period.
Jessica Ruddock '04 and Ali Boe '06 split cage duties for the Crimson, stopping eight shots through three periods. B.C.'s Davis took the top goalkeeper award in the tournament, denying 30 shots against Northeastern on Feb. 4, and posting 43 saves against Harvard.
The 2003 Beanpot champs will have plenty of time to celebrate on the bus ride up to Canton, N.Y., where the Crimson will take on No. 6 St. Lawrence in ECAC action this Friday and Saturday (Feb. 14-15).