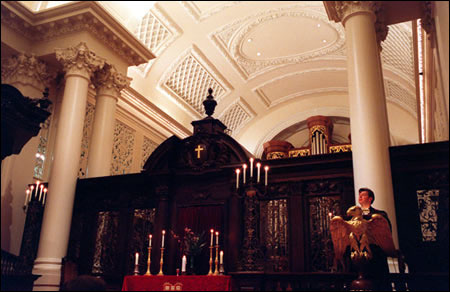 Harvard students organized a solemn ceremony of remembrance for astronauts of the space shuttle Columbia on Sunday (Feb. 2). About 60 students attended the ceremony at Harvard's Memorial Church, including representatives of more than a dozen student groups.
Harvard President Lawrence H. Summers gave the principal address, a brief talk praising the astronauts' courage and dedication to science, while also reflecting on the sadness felt by people across the world at the loss.
"Occasions like this are occasions when we do more than grieve," said Summers. "The crew of STS 107 would have wanted us to do more than just grieve. And so we celebrate the accomplishments of those lost. We celebrate the courage of those lost. We live and move on. But we, who live in the community of the mind, must remember and honor the physical courage of those who risk their lives in search of truth.
"We celebrate the vaulting ambition of those seven individuals who reached beyond the confines of this planet in search of truth. Even at this moment of tragedy, we honor and respect that enterprise."
Seven candles on the Memorial Church altar honored the seven astronauts killed. At the end of the brief service, students put votive candles in the church's Memorial Room, which honors Harvard students killed in World War I.
Students also signed cards for the astronauts' families that read "To the family of a hero. The Harvard community is praying for you."
The Rev. Mark D.W. Edington, Epps Fellow and Chaplain to Harvard College, officiated. Student groups sponsoring the ceremony were the Harvard College Democrats, the Harvard Republican Club, Student Astronomers at Harvard/Radcliffe, the Society of Physics Students, the Harvard Law School Federalist Society, the Harvard Law School Republicans, the Harvard Law School Democrats, Harvard Students for Israel, the Harvard Islamic Society, Christian Impact, the Orthodox Christian Fellowship, the Asian Baptist Student Koinonia, the Harvard Law School Veterans Association, Jews for Conservative Politics, the Society of Arab Students, the Harvard Israel Review, and the Sierra Student Coalition.