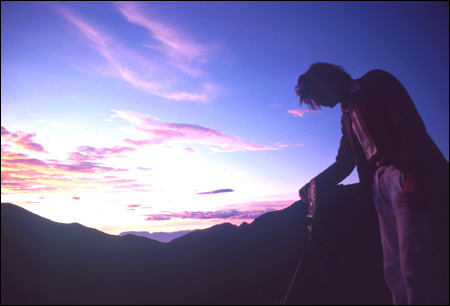 An anonymous donor has established a new fellowship fund in the Film Study Center memorializing an artist whom many regard as the world's greatest practitioner of aerial photography.
According to Lucien Taylor, associate director of the Film Study Center, the Robert E. Fulton III Fund is established to "commemorate Fulton's name and work by making a significant contribution to emerging filmmakers, who are either inspired by or display significant commonalties with Bob's work – such as his experimental cinematography, his exploration of diverse cultures, his profound aesthetic sensibility, particularly toward natural landscapes."
The recipient will hold the fellowship for one year and will be expected to "interact meaningfully with fellow practitioners, including postgraduate Harvard students, fellows, and faculty already affiliated with the Film Study Center."
Fulton, a member of the Harvard College Class of 1961 and a concentrator in Visual and Environmental Studies (VES), began his artistic career as a still photographer and later combined his interest in photography with his passion for flight.
Unlike most aerial photographers who concentrate on operating the camera while a pilot flies the plane, Fulton made his films solo. He devised a way of mounting a movie camera on the wing of his small, single-engine plane and operating it from the cockpit. In this way, he merged flying and cinematography into a single activity.
In his own films, Fulton often combined aerial footage with other kinds of imagery to create juxtapositions that convey meaning on a personal, poetic level. He also worked as a cameraman for other filmmakers. In the mid- to late-1970s Fulton taught as a member of the VES faculty.
"Robert Fulton was quite simply a person of immense originality and ability," said Robert Gardner, VES associate and former director of the Film Study Center. "His contribution as a teacher at Harvard and elsewhere is a legacy of permanent influence in the careers of countless students. Robert had a passion for music, flying, and image making, all of which he brought to stunning perfection."
Gardner, a well-known documentary filmmaker, worked with Fulton on several projects.
Fulton's brother Rawn Fulton, also a collaborator on many of his films, said that Robert was "a very alive person, an absolutely cutting-edge consciousness on all fronts. He was endlessly and relentlessly in touch with the interstitial spaces of a moment and what those spaces might contain. He was an inspiration and a mentor, and I miss him greatly."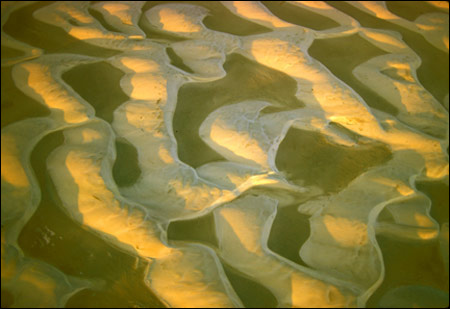 Fulton died on May 30, 2002, when his Cessna A-185-F crashed in Pennsylvania. The crash was the result of extreme, unexpected turbulence that caused the plane to break up in the sky. Fulton was a skilled and experienced pilot with more than 6,800 hours of flight time.
Fulton's films include "Starlight," "Path of Cessation," "Aleph," "Wilderness: A Country of the Mind," "Running Shadow," "Geography of Hope," "Street Film Part IV," "Swimming Stone," and "Vineyard IV." His films are distributed by Canyon Cinema, San Francisco, Calif.
At the time of his death, Fulton was working on a film for the BBC called "Andes to Amazon." He was also planning another project that would involve flying around the world to celebrate the 100th anniversary of the Wright brothers' first manned flight in December 1903.
Contributions to the Robert E. Fulton III Fund may be sent to the Office of the Recording Secretary, Harvard University.