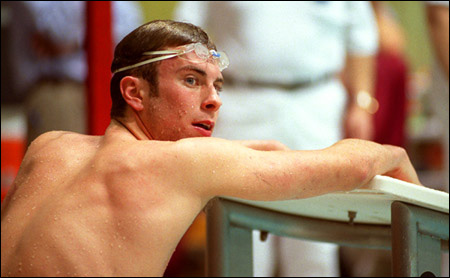 With the Feb. 2 meet fresh on their minds – a 179-175 loss to Princeton – the Harvard menrs swimming and diving team left plenty of breathing room between themselves and visiting Cornell and Dartmouth this past Saturday (Feb. 8). So much, in fact, that the Crimson managed a pair of sweeps against their Ivy brethren: downing the Big Red, 168-74, and the Big Green, 148-92. All told, Harvard took nine out of 13 events, to improve to 6-1 (5-1 Ivy).
Senior Ben Hanley topped the 1,000-yard freestyle in a time of 9:30.31 to put Harvard up in lights, besting Dartmouth's second-place finisher Sean Robinson by 13 seconds. Cory Walker captured both the 200-yard freestyle and the 200-yard butterfly with times of 1:41.74 and 1:51.85, respectively, while junior Kemi George came in first place in the 50-meter freestyle in 20.98, out racing the Big Green's trailing swimmer by less than a quarter of a second.
Divers Enrique Roy '04 and Dani Rybalko '06, who placed fourth on the 1-meter at the 2002 Junior Olympic West National Championships, finished first and second, respectively, in the 3- and 1-meter events.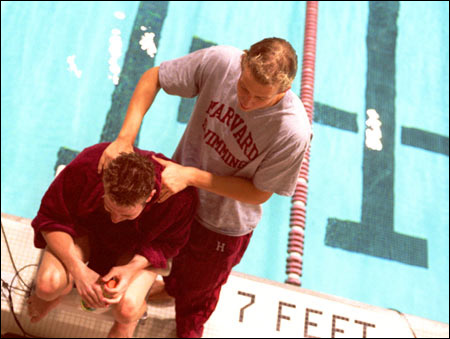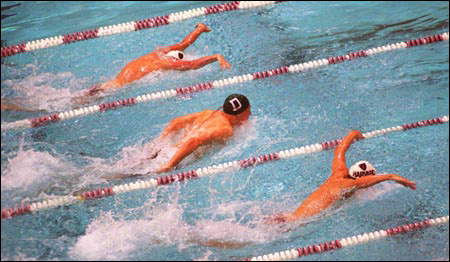 The men's team visit Pennsylvania on Feb. 15 in what's to be Harvard's final Ivy contest of the season. The action begins at 1 p.m.