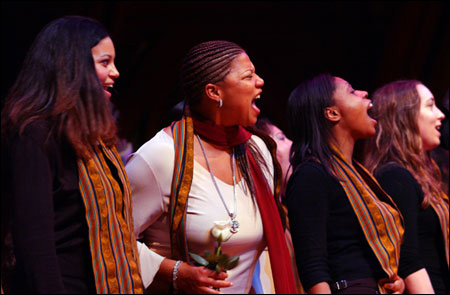 She's got a Grammy on her shelf and an Oscar nomination, but actress and rap musician Queen Latifah didn't let fame and royalty stand between her and a good time with Harvard students. Latifah, the Harvard Foundation's 2003 Artist of the Year, mingled warmly and performed enthusiastically at Harvard's 18th annual Cultural Rhythms Festival Saturday (Feb. 22) at Sanders Theatre.
Enjoying student performances from a dizzying array of cultural traditions – from Mizmor Shir's Jewish a cappella to the Kuumba Singers' African-American gospel to traditional dance from China, Tahiti, India, and beyond – Latifah was clearly impressed.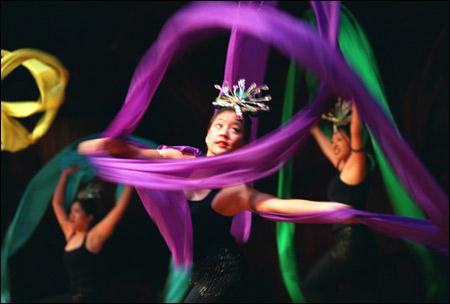 "If we could let these performers rule the world, we wouldn't be at war right now," she said.
"To me, that was one of the highlights," said S. Allen Counter, director of the Harvard Foundation for Intercultural and Race Relations, which sponsored the event.
"I can't say enough about what a gracious, eloquent, sincere, and intelligent person Queen Latifah is," Counter added. "The students loved her."
And, said Counter, she loved the students, whom he said presented the most dazzling performances he's seen in the festival's history.
"Each year, I'm more and more impressed, but this year was incredible," Counter said.
– Beth Potier