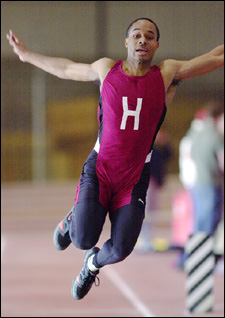 The Harvard men's and women's indoor track and field teams hosted crosstown rival Northeastern this past Saturday (Jan. 11) with mixed results. Powered by a first- through third-place sweep in the mile run, and strong outings in the long, triple, and high jumps, the men's team floated past the Huskies, 75-70. The women's squad, however, surrendered the meet, 71-56, despite a balanced afternoon in the field events.
With the victory, the men improve to 2-0 on the year, while the women fall to 0-2, having dropped a heartbreaking 64-63 season opener against Boston College on Dec. 7.
Facing Northeastern at Gordon Track and Tennis Center, freshman Lawrence Adjah finished first in the long jump with a mark of 6.89 meters to outpace Husky Steven Langton (6.60 meters) and Crimson teammate Travis Hughes '05 (6.37 meters). Together with fellow underclassman Samyr Laine '06, Adjah and Hughes later dominated the triple jump as well, taking first, second, and third place. The trio recorded jumps of 14.52 meters, 14.21 meters, and 14.19 meters, respectively. Clifford Emmanuel '06, meanwhile, took first in the high jump, clearing 1.99 meters.
On the ground, Harvard's Matthew Seidel '03 won the mile run in 4 minutes, 25.34 seconds to pace a Crimson pack that included Timothy Galebach '06, Simon Holmes '03, and Paul McDonald '03. The win, place, and show yielded nine points for the Crimson.
In women's field action, juniors Johanna Doyle and BreeAnna Gibson placed first and second in the weight throw with tosses of 16.17 and 15.61 meters, respectively, outdistancing the competition's total yield by 4 meters. On the track, senior Melissa Tanner won first place in the 3,000-meter run with a time of 10:7.21 – a full 20 seconds ahead of Northeastern's lead finisher.
The Crimson tracksters resume their fast and high-flying ways on Feb. 1, when the team entertains Cornell and Brown in an Ivy League Tri-Meet at Gordon Track. The action begins at noon.