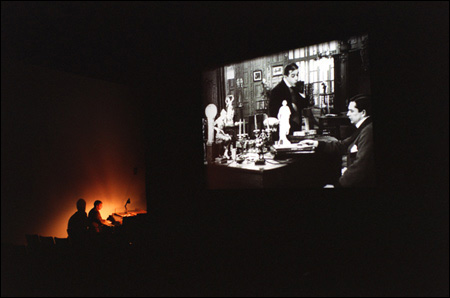 In Woody Allen's film, "The Purple Rose of Cairo," a character from a 1930s movie walks off the screen and into the life of an audience member.
When Yakov Gubanov plays piano accompaniment for silent movies at the Harvard Film Archive, he does exactly the opposite.
"I feel that I am an invisible personage in the film. I can comfort the good people who suffer and punish those who are evil, not just to comment, but participate."
Gubanov, a musician and composer from Ukraine, is music consultant and composer in residence at the Harvard Film Archive. It all started five years ago when he was asked to replace the regular accompanist, who had become ill. He had never improvised a live movie score before and wasn't sure if he could pull it off, but considering the timing of the performance he felt he had little to lose.
"I had a ticket to go back to Ukraine the next day. I thought, if it turns out to be a scandal, these people will never get me."
A scandal it was not. In fact, it was the beginning of a beautiful friendship. Gubanov estimates he has given about 100 performances since then, providing musical background for everything from Fritz Lang's "Nosferatu" to D.W. Griffith's "Broken Blossoms" to Sergei Eisenstein's "Potempkin."
Whatever the film, Gubanov prepares by studying it carefully on video, timing each scene and fixing its emotional content in his mind. So vivid is his impression of the film that he has no need to look at the screen as he plays. Nevertheless, his imaginative connection with the story line borders on the hallucinatory.
"I am always there on the screen among the people who live there. When I see a girl suffering, I envelop her with my love through the music. When it's a detective story, I always warn the good people about a danger that might occur."
Although Gubanov does his homework before each performance (he studied Japanese music before accompanying early films by Yasujiro Ozu and listened to Eskimo music to prepare for "Nanook of the North"), his playing on the night of the screening is always freshly improvised. It is something he believes is vital to the enjoyment of the film.
"Cinema has only one disadvantage. There is no unpredictability, so there is always a curtain between the audience and the screen. But when the pianist comes, he unlocks the door between past and present. He acts as a bridge."