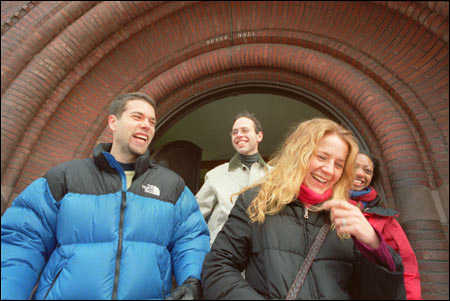 Harvard College's first-ever foreign exchange students have gotten a lot more out of Harvard than just its academic expertise, citing as highlights everything from living in the dorms to playing intramural soccer, from rowing on the Charles River to meeting students from around the world.
"This was just fantastic. I just love this place," said Marcelo Tyszler, a business student from the University of Sao Paolo in Brazil who spent the fall semester as a special student at the Graduate School of Arts and Sciences. "It's much more than academics, it's the whole life experience."
Tyszler and Miguel da Silveira, a law student from the Catholic University of Rio, also in Brazil, took classes in the Faculty of Arts of Sciences, and at the Law, John F. Kennedy School of Government, and Business Schools. They head back to Brazil at the end of this month to spend the spring semester at their home universities. Once there, they will be joined by two Harvard juniors, Leah Tucker and Sasha Clifton. Tucker will attend the University of Sao Paolo and Clifton the Catholic University of Rio.
As Harvard College's first foreign exchange program, the Brazilian exchange breaks new ground, according to John Coatsworth, Monroe Gutman Professor of Latin American Affairs and director of the David Rockefeller Center for Latin American Studies.
The program is the result of a cultural exchange agreement between the U.S. and Brazilian governments, he said, that provided a four-year federal grant. The program involves two U.S. and two Brazilian universities. In addition to Harvard, the University of Sao Paolo and the Catholic University of Rio, the University of Notre Dame is also involved.
The grant provides administrative costs as well as a stipend for each student. Participating universities have agreed to waive tuition costs for the visiting students and to accept the semester's work away as transfer credits toward the students' academic programs.
Coatsworth said the University of Sao Paolo and the Catholic University of Rio are two of the most distinguished universities in Brazil. The David Rockefeller Center is managing Harvard's end of the program as part of its mandate to foster relationships between Harvard and Latin America. Brazil was a natural selection for Harvard's first exchange program because of its size and influence in the region, Coatsworth said.
"The David Rockefeller Center has made it a priority since its founding to expand Brazilian studies at Harvard," Coatsworth said.
The academic thrust is built around the theme "Building Capacity for Social Progress." In addition to his or her academic studies, each student also serves an internship that somehow fits in that broad theme.
"We looked for a theme broad enough to be fairly inclusive but focused enough to attract students with a particular interest in incorporating leadership skills and social development into their academic programs. The program addresses critical societal issues in both Brazil and the U.S., and the comparative study of these issues has enormous value for both countries," Coatsworth said.
FAS Dean for Public Service Judith Kidd, a member of the exchange program's selection committee, said a major benefit of the program and its associated internship is that it exposes students to other cultures and situations and allows them to apply classroom learning to the real world.
Kidd said she looked for students with good communication skills, who were open, able to make friends readily, and able to think on their feet. The projects that the Harvard students selected, she said, are innovative and needed by society.
Environmentally sustainable farming
Clifton selected her outside project to align with her interests in sustainable agriculture. In addition to her studies in Brazil, Clifton said she plans to work at the Institute for Sustainable Agriculture there. Sustainable agriculture promotes organic farming and environmentally sensitive permaculture. Clifton plans to stay on after the spring semester and continue working at the Institute through the end of the year. Then she'll return and complete her studies at Harvard.
"I just couldn't be more excited," Clifton said. "It's exactly what I needed. I have a really big interest in sustainable agriculture and this gives me the opportunity to study [it] and know what I want to do before applying to graduate school."
The exchange appears to be going well so far, Coatsworth said, but he added that the quality of the experiences of the Harvard students going to Brazil are an important factor in its evaluation.
The University has committed itself to the four-year program. The first year was devoted to planning, so just two years remain. Coatsworth expects the number of students involved to increase slightly in the next two years, but not dramatically.
Coatsworth, who sits on the Faculty of Arts and Sciences' Committee to Study Out of Residence, said the committee is working to expand opportunities for students to study in other countries. The first study abroad program, which differs from an exchange in that the study is directed from Harvard, will see Harvard students traveling to Chile this spring under the David Rockefeller Center's direction, Coatsworth said.