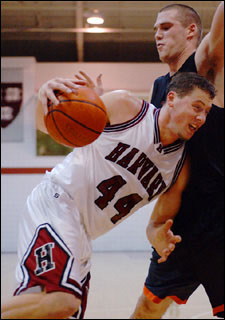 Following a trio of nightmarish defeats to Boston College, Richmond, and the Virginia Military Institute, Harvard's sleeping giants were more than a little stirred in the Crimson's league opener against Dartmouth (4-7, 0-1 Ivy) this past Saturday (Jan. 4), lifting the men's basketball team past the Big Green, 67-50.
In just 25 minutes of action, seven-foot center Brain Sigafoos '03 scored a career-high 24 points on 10 for 11 shooting, while forward Sam Winter '03 posted a double-double with 13 points and 12 rebounds. Together, the two conspired for 20 boards – eight short of Dartmouth's team total. The win, Harvard's fourth straight at Levites Pavilion, improved the Crimson to 8-5 on the year.
Shooting 50 percent from the field in the first half, Harvard controlled the tempo from the get-go, taking an early 20-4 advantage. Yet the pesky Big Green, led by co-captains Charles Harris and Mike Lang (12 points apiece on the afternoon), closed the chasm to a 29-23 Crimson edge at the half, while Dartmouth's defense confined senior guard Patrick Harvey – Harvard's leading scorer at 15.5 points per game – to zero first-half points.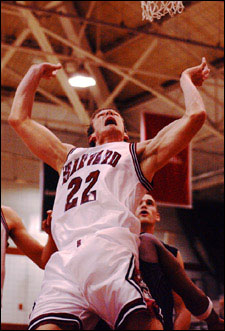 Undaunted by the Big Green surge, Harvard opened the second half with a 15-4 spurt to outdistance Dartmouth 44-27 over a 5-minute span. Paced by nine points from Sigafoos, the Crimson burst marked a sharp departure from some of the second-half sloppiness that plagued the team early on in the season. Against Rider, Colgate, and Mercer, the Crimson, after establishing sizable first-half leads, barely managed to eke out wins.
Senior guard Elliott Prasse-Freeman, recently crowned Harvard's all-time assist leader with 597 (surpassing 1999 graduate Tim Hill's 590), dished out five helpers and five points in the win, while Harvey blossomed in the second half with 12 points, in addition to eight boards, five assists, and three steals.
Dartmouth gets another shot at Harvard on Saturday (Jan. 11), when the Crimson travel to Hanover. Tip-off is 7 p.m.