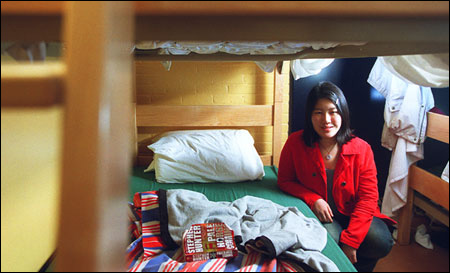 When Emily Famutimi '03 founded Keylatch Mentor for adolescents who had aged out of the South End's Keylatch Afterschool Program that she directed, she took money from her own pocket, buying supplies as well as T tokens and movie tickets for the kids' activities with their mentors.
On Wednesday evening (Jan. 8), Famutimi was paid back in grand style: She is one of six Harvard seniors awarded Phillips Brooks House Association's (PBHA's) Neil J. Houston Public Service Scholarship and Donald W. Moreland Public Service Scholarship awards for their quiet devotion to less advantaged people in the Boston and Cambridge communities.
And while the scholarship money might provide a welcome reimbursement for some of Famutimi's financial generosity, her Houston Award also shone a spotlight on students who, according to the peers who nominated them, labor tirelessly and in obscurity for their causes.
Joining Famutimi as winners of the Houston Award were seniors Steve Kim, who has worked with several programs serving Boston's Chinatown neighborhood, and Michelle Kuo, cited for her empathetic leadership of the Harvard Square Homeless Shelter. Sebastian Fain, a volunteer in Mission Hill; Shanna Ricketts, who leads programs for youth in Roxbury and oversees PBHA's summer programs; and Sarah Tsang, a tutor and mentor to refugee youth, received the Moreland Award.
Addressing a crowd of alumni and public service leaders in the ARCO Forum at the Kennedy School of Government, PBHA President Laura Clancy said the awards "say a big 'thank you' to students who don't often hear 'thanks.'" Nodding toward the lavish buffet, Clancy added that most public service dinners are pizza or, for a really special occasion, pizza with pepperoni.
Keynote speaker Thomas Reilly, just starting his second term as attorney general of Massachusetts, inspired the audience with real-world stories of professional public servants – and, in turn, got some inspiration from the Harvard students.
"Walking around the room here tonight, just listening to what all of you do, you're all winners," he said. "The work that you do and the difference that you make in people's lives … it's pretty impressive. It's an honor to be here."
Reilly shared the story of Paul McLaughlin, a bright young Boston lawyer who worked as a prosecutor in the attorney general's office instead of pursuing the more lucrative path of joining a large private law firm.
McLaughlin took on the gangs that dominated Boston's inner-city neighborhoods in the late 1980s and early '90s, working closely with the communities to identify and prosecute gang leaders. His efforts were cut short in 1995, when he was assassinated in a parking lot by a gang whose leader he was about to prosecute.
"If the story stopped there, it would be a tragedy in a series of tragedies," said Reilly. Instead, the communities that McLaughlin had rallied together continued to work to rid their streets of gangs and create safer neighborhoods.
"It was the community that stepped up and said 'we're going to take control,'" said Reilly. "Things changed, not just because of Paul McLaughlin but because of others." McLaughlin's legacy continues to strengthen those neighborhoods today, he said.
While he acknowledged that not everyone can have the impact that McLaughlin did, Reilly encouraged the students to carry their commitment to public service throughout their lives and to consider running for office.
"We can all make a difference," he said. "We can all contribute in some small way."
If the Houston and Moreland Awards, which are funded by the Frederick E. Weber Charities Corp., honored students whose contributions were grand, the winners' egos were not.
"This means a lot to me. But I wish we could give this award to everyone here," said Sebastian Fain. Fain's anonymous nominator lauded his work in the Mission Hill neighborhood, saying that he went beyond his official duties with the Mission Hill Afterschool and Summer Programs to show up at community meetings and gatherings.
For Fain, who juggles his public service with a demanding pre-med course load, his commitment to youth in Mission Hill reaps rich returns.
"Working in Mission Hill gives me a sense of home," he said. "I wouldn't trade the experience for anything. And I still have time for fun."
Like most of the recipients, Keylatch Mentor founder Famutimi was completely surprised by the award. "I was really flattered, honored, touched," she said.
Ever the public servant, Famutimi plans to donate her scholarship money back to Keylatch Mentor, Keylatch Afterschool, and the Keylatch Summer Program, all of which serve youth in Boston's South End.
She shrugs off the idea of repaying herself for those T tokens and photocopies. "It doesn't make sense to win an award like this if I don't share it," she said.