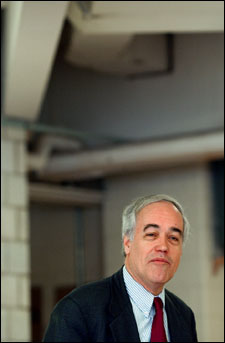 As the nation remembered the legacy of Martin Luther King Jr. last weekend, Harvard's Civil Rights Project (CRP) released a report on America's increasingly segregated schools that blew a chilling wind on the optimism of King's "I have a dream" speech.
The report, released Jan. 19, shows that after 30 years of progressive desegregation, America's schools have been sliding toward "resegregation" for more than a decade, despite steady growth of minority populations in public schools.
"We're in a 12-year process of going backward for blacks and whites in segregation in the country," said Professor of Education Gary Orfield, co-director of the Civil Rights Project and the author, with Erica Frankenberg and Chungmei Lee, of "A Multiracial Society With Segregated Schools: Are We Losing the Dream?"
The report, which uses the National Center for Education Statistics (NCES) Common Core of Data for 2000-01 to look at nearly all U.S. schools, found that the desegregation of black students, which increased steadily from 1950 to the late 1980s, has receded to levels not seen in three decades. Simultaneously, school population is increasingly nonwhite: Minority student enrollment is nearly 40 percent of all U.S. school students, double what it was in the 1960s. In the West and the South, that figure approaches 50 percent.
Whites, the study found, are the most segregated of all ethnic groups; they attend schools that are, on average, 80 percent white. Asians, the nation's most highly educated racial group, are also the most integrated, in both schools and in the communities in which they live.
The study also charted the growing emergence of what it calls "apartheid schools": schools that are virtually all nonwhite. Nationwide, one-sixth of all black students attend such schools; in the Northeast and Midwest, the figure jumps to one-quarter of black students.
As he juggles media interviews and jokes about enjoying his "15 minutes of fame," Orfield is obviously pleased that the study is generating discussion about a topic that he says too many people assume was taken care of during the civil rights movement.
Segregation of schools "is a very, very important measure of where we are in terms of race relations in the country, and it was the central issue in the greatest Supreme Court decision of the 20th century," he says. "But people don't really want to think about it that much."
Indeed, while the Supreme Court's 1954 Brown v. Board of Education led to the steady, if messy, progress of integrating schools through the 1960s and '70s, the CRP study points to several Supreme Court decisions in the early 1990s that have eroded integration.
The magic of integrated schools
Orfield says the spirit of Brown – that separate schools are inherently unequal – is at the troubling heart of this study's results.
"There is nothing magic about sitting next to a child of another race," he says. "But if we ask, 'Is there a difference between being in an impoverished school or a middle-class school?' there's a huge difference."
The study did find a powerful link between poverty and segregation in schools, with nine out of 10 segregated black and Latino schools serving populations with high concentrations of poverty. With poverty comes a host of factors that destabilize schools: limited resources, poor retention of teachers, and social and health problems. One need only look at standardized test results, says Orfield, to connect the dots between poorly performing schools and impoverished districts.
There are other, less tangible benefits to school integration, as well: Minority students in integrated schools have better access to the informal networks that might point them toward college or even encourage them to consider an elite college. For whites, integration in schools better prepares them for the increasingly multicultural society they'll enter as adults.
"People who are in the interracial schools are having very positive experiences," says Orfield.
As he outlines the report's recommendations – among them, encouraging educational choice plans that diminish segregation – Orfield is buoyed by the 30-year strides toward integration our nation's schools saw from the 1950s until the late-1980s. Those efforts and successes lasted a long time, he says, and can be a blueprint for a new focus on integration of schools.
"The dream of Brown and the dream of the civil rights movement still have tremendous resonance," says Orfield. "We need to take advantage of that memory and that resonance and think about what we need to do in the next century."