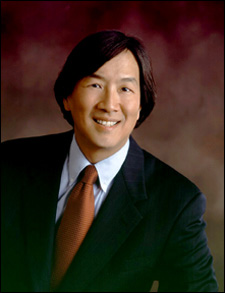 Howard K. Koh, commissioner of public health for the commonwealth of Massachusetts since 1997, has agreed to join the faculty at the School of Public Health (SPH) as an associate dean and professor.
The leading health official for the commonwealth, Koh will leave his current position to be associate dean and professor of public health practice in the Department of Health Policy and Management at SPH.
"We are tremendously excited to have Dr. Koh join the faculty of the School of Public Health," said SPH Dean Barry R. Bloom. "He is a charismatic leader in health and a superb communicator. With his leadership, the commonwealth has become recognized nationally as having made outstanding strides in disease prevention and promotion of health, from smoking reduction to preparedness for bioterrorism. We are privileged to have him join with another outstanding former Commissioner of Public Health, SPH Professor Deborah Prothrow-Stith, in providing a unique opportunity for our students to learn from the very best in the profession of public health."
Said President Lawrence H. Summers, "The addition of Howard Koh, the Massachusetts Commissioner of Public Health, to the faculty at HSPH strengthens what is already a strong commitment by the School to solving, in both theory and practice, the most pressing health issues of society. His recent experience should be an invaluable resource."
In accepting the appointment, Koh said, "I am honored to join this esteemed institution, which is dedicated to advancing the health of people around the world. I hope my experience as a state public health commissioner can serve as a resource for the next generation of public health leaders." Koh's appointment is effective April 15.
As commissioner of public health in Massachusetts, Koh oversaw a wide range of public health services and a staff of more than 3,000 public health professionals. A noted cancer and public health specialist, Koh also served as director of cancer prevention and control at Boston University Medical Center and professor of dermatology, medicine, and public health at the Boston University Schools of Medicine and Public Health. He is one of a few U.S. physicians who has earned board certification in four medical fields including internal medicine, hematology, medical oncology, and dermatology as well as a master of public health degree.
As commissioner, Koh emphasized the power of prevention to help all people reach their full potential for health. Additionally, he strengthened the department's commitment to promoting diversity and eliminating health disparities by embracing the health concerns of those most in need. Koh has been recognized for his past leadership of the Massachusetts Coalition for a Healthy Future, the group that pushed for the commonwealth's groundbreaking tobacco control initiative.
Under his tenure, the commonwealth built healthier communities through advances in many areas, including: tobacco control, AIDS treatment and prevention, substance abuse services, cancer screening and prevention, public health hospitals, newborn screening, health issues of the homeless, coordination of emergency medical services, promotion of mental health as a vital part of public health, organ donation, bioterrorism response, and the integration of human rights and public health.
As professor and associate dean, Koh will be assuming leadership of the School's Division of Public Health Practice from Prothrow-Stith. Prothrow-Stith will concentrate on responsibilities as director of SPH's federally funded Center for Public Health Preparedness, newly designated by the Centers for Disease Control. She will also continue to provide national leadership on youth violence prevention and remain associate dean for faculty development.
"Howard has been a respected friend and colleague for over 20 years, and I am excited to have him join us," said Prothrow-Stith. "He is a knowledgeable, effective, and nationally recognized public health leader who will add tremendous value and enhance our capacity to train students and serve the public."
Massachusetts legislators praised Koh. Said Sen. Edward M. Kennedy: "Dr. Koh is a tireless advocate for improving our public health-care system and increasing public health research. While I am sorry to see him leave his position as commissioner of public health, the Harvard School of Public Health is very fortunate to have such a respected and dedicated professional join their faculty. I look forward to working closely with Dr. Koh in the future as I'm sure he will continue to make important contributions to the field of public health."
Said U.S. Congressman Marty Meehan, co-chairman of the Congressional Task Force on Tobacco and Health: "Howard is truly committed to public health. He has had a distinguished career and will make a valuable contribution to the Harvard School of Public Health. For six years, he succeeded in improving the health of every citizen of Massachusetts. Above all, he is a leader who continues to serve for the greater good."
A graduate of Yale College and the Yale University School of Medicine, Koh trained at Boston City Hospital and Massachusetts General Hospital, serving as chief resident in both hospitals.