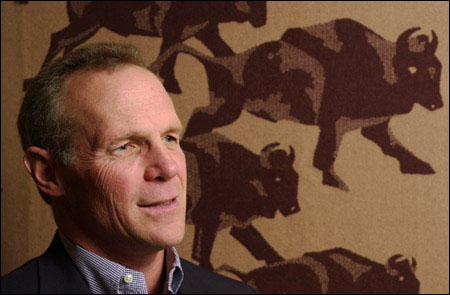 It took two years of negotiations after decades of steadily rising tensions for the Idaho Nez Perce Tribe and a coalition of 23 local non-Indian government groups to agree to sit down and talk to resolve their disputes.
The simplicity of the agreement – brokered by two Harvard professors – speaks volumes about the state of relations between the two sides.
The dispute is a result of federal Indian policies since the Nez Perce fought one of the nation's last Indian wars in 1877. Policies that have blown with the political wind on the issue of tribal sovereignty have created a crazy quilt of overlapping governmental responsibilities and jurisdictions.
That quilt was perilously close to unraveling on the Nez Perce reservation in Idaho during the 1990s. One local government administrator said tensions were so high that he was worried that violence was possible. And he wasn't the only one concerned. During an attempt at mediating the dispute by then-Idaho Gov. Phil Batt, more than a dozen state troopers and two ambulances were standing by.
"I'm afraid we'd reached a point in our relations where something more violent would have probably taken place if Harvard hadn't offered its services," said Rick E. Laam, Orofino city administrator.
Typifying the situation was a 1990s traffic stop where a Nez Perce policeman pulled over a county prosecuting attorney allegedly speeding on the reservation. The attorney told the officer that the tribal police had no jurisdiction over non-Indians and sped off, leading to a high-speed chase.
No one was hurt in the incident, but it added to the tensions.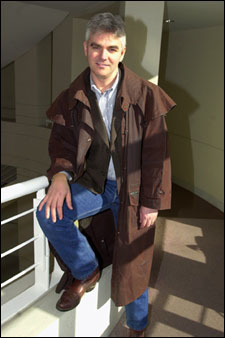 Local officials approached Keith Allred, assistant professor of public policy at the John F. Kennedy School of Government and an Idaho native, after Allred gave a talk to a group of city and town administrators about negotiating.
After discovering that both sides were willing to accept his help, Allred asked Joe Kalt, Ford Foundation Professor of International Political Economy and head of the Harvard Project on American Indian Economic Development, if he'd be willing to lend a hand. Kalt agreed. Greg Carr, the benefactor of the Kennedy School's Carr Center for Human Rights Policy, agreed to finance the costs of the project while Kalt's efforts were supported by the Christian A. Johnson Endeavor Foundation.
Sovereignty the issue, cooperation the solution
Allred and Kalt looked into the dispute and saw that they were faced with a situation distressingly common across the country. The overarching issue is who has jurisdiction over non-Indian populations that reside on Indian reservations.
The problem has a long history, beginning with the 1887 Dawes Act. In an effort to foster assimilation into white American society, the act mandated that reservation land be divided among individual tribal members, with leftover land sold off to white homesteaders. In addition, after a certain number of years, the new Indian landowners were allowed to sell their holdings, which many did, putting even more reservation land in the hands of non-Indians.
The end result, on the Nez Perce reservation and across the West, is that large portions of reservation land are owned by non-Indians. In the Nez Perce's case, about 90 percent is owned by nontribal members, Allred said.
Over the years, these non-Indian communities established towns, school districts, and other governmental structures to regulate their communities. Those conflicting tribal and nontribal governments, overseeing populations that share the same space, have clashed repeatedly and regularly over issues ranging from taxation to law enforcement to employment to natural resource management.
"It's just a thorny patchwork of law trying to figure out who has jurisdiction where," Allred said.
The most recent dispute came to a head during the 1990s when the tribe began exercising powers they had been granted but which they hadn't used before. A precipitating event involved a 1996 school construction project by a nontribal school district. The Nez Perce levied a 1.5 percent fee on the project, which is allowed under federal law in order to pay for job training and placement on the reservation.
In addition, the tribe also tried to enforce employment rights that say tribal members can have 10 percent of construction jobs on the reservation. The school district balked at paying the fee and then balked again when the contractor jacked up the price because it had to hire tribal members.
The Alliance
The response of local government entities was to band together; 23 school districts, highway districts, cities, and counties formed The North Central Idaho Jurisdictional Alliance. Alliance members agreed to negotiate with the tribe only as a group. The tribe, feeling the alliance had been formed to challenge its sovereignty, decided it would only negotiate with individual alliance members on individual problems.
"The lines of communication were almost totally cut," Allred said. "It had been a pretty hot conflict, getting hotter all the time."
After talking with both sides in the conflict, Allred and Kalt set up a two-day executive education session. One of the ground rules was that they would not talk about their own case until the last session on the last day.
Allred said things started out tense, with representatives from each side clustered on opposite sides of the room. Things began to loosen as he and Kalt mixed the two groups up, brought them up to speed on the legal landscape, and embarked on negotiating exercises involving similar thorny situations.
The turning point came, Kalt said, when they studied similar cases and began to realize there were solutions to their problems that didn't involve giving up sovereignty.
"There is just tremendous ambiguity regarding the jurisdiction of tribal government on one hand and of state, country, and city governments on the other hand. That ambiguity generates conflict," Kalt said. "If you define the problem as 'settling our jurisdictional disputes' you won't succeed."
During that last hour of the two-day education session, the group agreed to set up an Intergovernmental Working Group, with four representatives from each side, charged with drafting a memorandum of understanding that sets out procedures and preferred methods of resolving disputes.
External events had also begun to change minds, according to Nez Perce Executive Committee Member Jake Whiteplume. The Sept. 11 terrorist attacks in New York and Washington, D.C., occurred early in the process, he said, and really made people think about the path they were on.
"It kind of made everyone sit down and think about what we're all about and what we're doing," Whiteplume said. "It made us realize we're not on Earth long and we want to make things better now and for future generations. It's amazing the kind of impact that had."
Though simple, the memorandum of understanding, signed Dec. 6, does several important things, Kalt said. First, it states explicitly that the preferred method of resolving disputes is to establish intergovernmental groups instead of going to court, an alternative that had consumed tremendous time and money from both sides.
In addition, it authorizes the Intergovernmental Working Group to identify existing and potential problems and establish technical working groups, made up of professionals in appropriate fields.
One important change resulting from the memorandum is that points of communication between the two sides have been established, Whiteplume said. Now, when someone has a question or concern, they pick up the phone and let the other side know, airing problems before they fester and spill out into the local press.
Though the communication logjam has been broken, Whiteplume and Laam agree they're just getting started in resolving conflicts involving natural resource use, law enforcement, easements, and economic development.
"The hard part is now before us," Laam said. "We've had two years of relationship-building. The next step is to identify conflict areas."
Living with ambiguity
Key to the agreement and the decision to establish working relationships, Allred said, is the realization that the federal government has, in fact, made inconsistent rulings over the years. In addition, both sides realize that neither is going away any time soon.
That understood, Allred said, the parties are avoiding getting hung up on who's boss and instead are figuring out how to rule in the best interests of their respective tribal and community members.
The process of figuring out how to function effectively in an ambiguous environment is one that has broad application, and Kalt and Allred said they've already been contacted by other tribes and communities in the United States facing similar problems.
"If you try to resolve the jurisdictional argument, you're not going to compromise because these are things that go to self-identity," Allred said. "Neither side needs to compromise its jurisdictional claim. They simply agree that this is how they're going to exercise their jurisdictional powers."