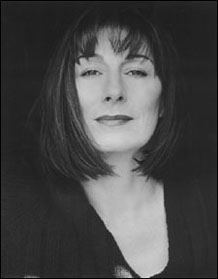 Director/producer Martin Scorsese and actor/director Anjelica Huston will be in Cambridge next month.
This year's choices for the Hasty Pudding Man and Woman of the Year awards keep company with an array of talent that includes Ella Fitzgerald, Katharine Hepburn, Jack Lemmon, and Mikhail Baryshnikov. The 2003 recipients of the coveted honor are Martin Scorsese and Anjelica Huston.
The Woman of the Year festivities will be held on Thursday (Feb. 6). At 2 p.m., Huston will lead a parade through the streets of Cambridge. Following the parade, the president of the Theatricals and the vice president of the cast will roast Huston and present her with her Pudding Pot at 2:40 p.m. in the historic Hasty Pudding Theatre. After the roast, several numbers from the Pudding's 155th production, "It's a Wonderful Afterlife," will be previewed at 2:55 p.m., and a press conference will be held at 3:20 p.m.
On Thursday (Feb. 13), the Man of the Year will be honored. The producers of the Hasty Pudding Theatricals will roast Scorsese and present him with his Pudding Pot at 8 p.m. in the Hasty Pudding Theatre prior to the start of the opening-night performance of "It's a Wonderful Afterlife." A press conference will be held immediately after the roast at 8:25 p.m.
The Man and Woman of the Year awards are presented annually to performers who have made a "lasting and impressive contribution to the world of entertainment." Established in 1951, the Woman of the Year award has been granted to many notable and talented entertainers, including Shirley MacLaine, Meryl Streep, Glenn Close, Julia Roberts, Jodie Foster, Drew Barrymore, and, most recently, Sarah Jessica Parker. The Man of the Year award was established in 1963. Its past recipients include Bob Hope, James Stewart, Anthony Hopkins, Steven Spielberg, Harrison Ford, and, in 2002, Bruce Willis.
Woman of the Year
Critically acclaimed actress and director Anjelica Huston has garnered cinematic prestige and distinction for her diverse and distinguished body of work. Among the feature films Huston has starred in are Francis Ford Coppola's "Gardens of Stone"; Woody Allen's "Manhattan Murder Mystery" and "Crimes and Misdemeanors"; and Disney's "The Addams Family" and "The Addams Family Values."
A talented and versatile actress, Huston has earned numerous accolades and awards, including an Academy Award for Best Supporting Actress and a New York Film Critics Award for her role in 1985's "Prizzi's Honor." Huston also received a 1998 Blockbuster Entertainment Award for Best Supporting Actress for her performance in "Ever After," and a 1995 Golden Globe nomination for Best Supporting Actress for her work in "The Crossing Guard," directed by Sean Penn.
Highly successful behind the camera, Huston made her directorial debut in 1996 with her unflinching adaptation of Dorothy Allison's best-selling memoir, "Bastard Out of Carolina." For this picture Huston was nominated for a Director's Guild of America Award and an Emmy award. She also directed, produced, and starred in "Agnes Brown," which was presented at the 2000 Cannes Film Festival.
Huston has most recently been seen in "The Royal Tenenbaums" and Clint Eastwood's "Blood Work." Future projects include Columbia's "Daddy Day Care" with Eddie Murphy, and HBO's "Iron Jawed Angels," with Hilary Swank and Patrick Dempsey.
Man of the Year
A highly accomplished director and producer, Martin Scorsese has made some of the most noteworthy films of our time. Born in New York City, Scorsese found cinematic inspiration while growing up in the tough downtown neighborhood of Little Italy. After receiving a B.S. and an M.S. from New York University, he moved to Hollywood, where he directed "Boxcar Bertha" and "Mean Streets," his breakthrough film, which starred Robert De Niro, Amy Robinson, and Harvey Keitel.
Over the next 30 years, Scorsese directed a series of critically and commercially successful films, including "Taxi Driver," "New York, New York," "The Color of Money," "Cape Fear," "The Age of Innocence," and "Casino." His 1990 film "Goodfellas" received six Academy Award nominations, and Best Director awards from the New York, Los Angeles, Chicago, and National Society of Film Critics. Scorsese has also received Best Director Oscar nominations for "Raging Bull" (1980) and "The Last Temptation of Christ" (1998). His other awards include the American Film Institute Life Achievement Award and the Legion d'Honneur from the French Minister of Culture.
The critically acclaimed film "Gangs of New York" is Scorsese's most recent project. Based on a script Scorsese wrote 23 years ago, "Gangs of New York" is a social and political drama set in 19th century New York City and stars Leonardo DiCaprio, Daniel Day-Lewis, and Cameron Diaz. In 2003, the film received five Golden Globe nominations and won Scorsese the Golden Globe award for Best Director.