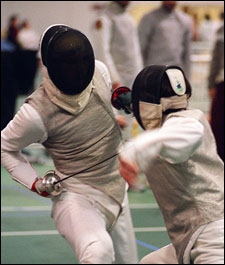 The Harvard fencing team traveled to Chestnut Hill this past Saturday (Jan. 25) where the Crimson went undefeated in Northeast Fencing Conference (NFC) competition against the Massachusetts Institute of Technology (M.I.T.), Tufts, Brown, Smith College, and host Boston College.
Saturday's victories improve the overall men's record to 5-0 for the season, while the women advanced theirs to 5-1, both teams continuing to impress in what has been a renaissance year for Harvard Fencing.
The Crimson were powered by strong individual performances from a number of freshmen fencers, including Tim Hagamen '06 in men's saber and Chloe Stinetorf '06 in women's foil. Both went undefeated on the day as the Harvard men went on to defeat M.I.T. (23-4), Tufts (22-5), and Boston College (22-5), before finishing the day strongly with a final victory over the Brown Bears (21-6). The Crimson women's team followed suit by beating M.I.T. (17-10), Boston College (18-9), Tufts (18-9), Smith College (21-6), and Brown (20-7).
The results build upon earlier successes this season: Harvard upset Ivy League rival Columbia, and also earned the men's team a national ranking of 8th in the NCAA.
"This is the best Harvard men's team that I've seen in 25 years – maybe longer," said Harvard assistant coach Elliott Lillian.
Strong performances from Anne Austin '06 and Liz Blaze '04 marked Saturday's play: Each of the swordsmiths lost only one bout on the day in women's foil, while Harvard head coach Peter Brand singled out some good performances by captain Amy Bei '03 in women's saber.
The day wrapped up with team victories over Brown, providing some of the most intense action of the competition, especially in men's saber. A feature bout involved Harvard's Hagamen and Brown All-American Paul Friedman '04 facing off in a highly contested bout that was charged with emotion. The young Crimson fencer frustrated his Brown counterpart, employing a more defensive, counter-attacking style to eventually defeat the more aggressive Friedman. Hagamen is currently ranked 8th in the nation by the U.S. Fencing Association.
The teams return to action this weekend. The women will take on Cornell this Saturday (Feb. 1), while both teams will face Penn and additional competition on Sunday (Feb. 2) at the M.I.T. Invitational.