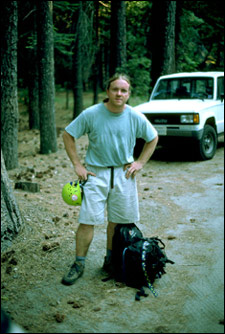 The Cambridge City Council unanimously approved an order last week to name a city square after the late Scott Sandberg – the Radcliffe Institute for Advanced Study building services coordinator who died in a November avalanche – in honor of his efforts to improve recycling.
The order, unanimously approved at the Jan. 6 meeting, directs that an appropriate site be named "Scott Sandberg Square." It further directs the assistant to the City Council to confer with Sandberg's family on a suitable ceremony and to confer with the city Department of Public Works to arrange an appropriate marker.
Garrett Simonsen, assistant to the mayor and vice mayor, said they are considering the corner of Mason and Brattle streets, which is near Sandberg's Radcliffe office, as a location for the site. It would be marked with a suitable object, such as a signpost, a tree, or a park bench, Simonsen said.
Cambridge Vice Mayor Henrietta Davis sponsored the action in honor of Sandberg's work to increase the level of recycling at Radcliffe. Davis said that Rob Gogan, supervisor of waste management for Harvard's Facilities Maintenance Operations, suggested the memorial, but that city officials were already aware of Sandberg's work. Sandberg won an award from the city two years ago for work that increased Radcliffe's recycling rate from 25 percent to 72 percent.
"I knew about Scott's work and about the tragic end to his life and felt it important to honor his memory because of how much he meant to people he worked with and because of the importance of the recycling work he espoused," Davis said.
An avid hiker, rock climber, and ice climber, Sandberg died Nov. 29 at the age of 32 in an avalanche on New Hampshire's Mount Washington as he prepared to climb in Tuckerman Ravine.
Gogan said the energy and innovation Sandberg brought to his job will help his name live on. Gogan told an anecdote of a recent discussion about a recycling problem during which someone said they needed to use "a Scott Sandberg approach."
"[Sandberg] served as both an expert and a cheerleader," Gogan said. "His name has become synonymous with recycling and environmental responsibility."