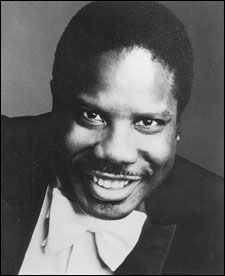 The Boys Choir of Harlem, the internationally acclaimed performing ensemble of the Choir Academy of Harlem, will participate in a residency at Harvard Feb. 4-8.
Sponsored by President Lawrence H. Summers and the Office for the Arts, the residency will consist of an artistic and educational exchange including a variety of activities with choir members and undergraduates, and featuring a performance called "The Boys Choir of Harlem and Harvard Artists: A Musical Celebration" in Sanders Theatre on Friday (Feb. 7). The performance is open to the Harvard community and guests, and free tickets will be available to the University community through the Harvard Box Office beginning Jan. 29.
The goals of the residency are to give Harvard students the opportunity to work with and learn from a world-class music ensemble; to foster a mentoring environment in which members of the choir interact with Harvard undergraduates; and to have the choir experience the educational and cultural life of the University by participating in classes and other activities.
"By welcoming the Boys Choir of Harlem to Harvard, we envision a mutually beneficial partnership that emphasizes learning through collaboration," explains Jack Megan, director of the Office for the Arts. "This will be an invaluable educational opportunity for our student performing artists and in turn will provide members of the choir with a significant immersion in the college experience."
The Boys Choir of Harlem is an artistically driven organization dedicated to providing members with a broad-based education. Through a comprehensive program of academic and artistic education, counseling, and the performing arts, the choir prepares inner-city youth to become disciplined, confident, motivated, and successful citizens.
Founded in 1968 by Walter Turnbull, the choir is under the aegis of the Choir Academy of Harlem, which was established in 1993 as part of the New York City public school system.