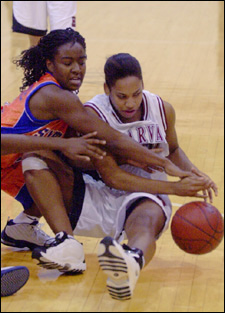 Hitting the hardwood running, the Harvard women's basketball team – picked by the pundits as the official 'team to beat' in the Ivies – took its first spill of the season on Dec. 1, dropping a 84-44 decision to No. 7 Vanderbilt. Playing in the title game of the First Tennessee Tournament in Nashville, the overwhelmed Crimson trailed by 27 points to close out the half. The team shot just 24 percent from the field on the afternoon.
Harvard's fab front court – Hana Peljto '04 and Reka Cserny '05 – the 2001-02 Ivy League Player and Rookie of the Year, respectively, combined for 21 of the Crimson's 29 points in a failed second-half comeback bid. The loss ended a three-game win streak for Harvard.
Prior to the battering delivered by the Commodores, Harvard (3-1, 0-0 Ivy, at press time) downed a trio of opponents in Syracuse, Boston University, and Central Michigan, to start the season perfect. Some highlights:
At Harvard's home opener on Nov. 22, first-year guard Jessica Holsey '06 notched nine points, including a key three-pointer, to lift the Crimson past Syracuse, 79-76. Down 47-37, guard Beverly Moore '04, a transfer from Louisiana Tech, who sat out last season as part of the NCAA's transfer rule, sank a jumper and three-point basket to spark a second-half rally. Six-foot-two Peljto put Harvard on top with a three-point play, pacing her team with 20 points and 15 boards.
On Nov. 26, Harvard withstood a 14-point second-half onslaught from Boston University's Katie Terhune, a member of last year's womancollegehoops.com Underrated All-American Team, before taming the Terriers, 78-74. Peljto, meanwhile, recorded her second straight double double, notching 25 points and 10 rebounds in the win, while senior forward Kate Ides chipped in 12 points.
Harvard's victory over Central Michigan on Nov. 30 marked a milestone for coach Kathy Delaney-Smith, who grabbed her 300th career win, the most ever by a Crimson basketball coach – men's or women's. Despite a scoring drought for the first four minutes of the contest, the Crimson regrouped late in the first half to take a 29-20 edge at the break. Peljto burned the Chippewas for 29 season-high points, including 18 in the second half, in the 69-58 win. Sophomore guard Rochelle Bell pitched in 13 points.