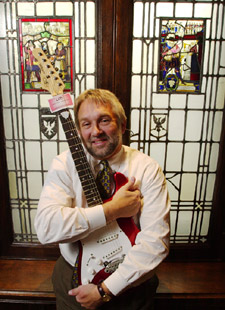 The Lowest Common Denominators' lead guitarist's office isn't what one imagines for a rock musician. Books are neatly arranged on shelves around his desk, there's tasteful art on the wall, and photos of his kids are lined up on the windowsill.
But Tim Cross is not a typical rock musician. Cross is Harvard Divinity School's associate dean for finance and administration by day and classic rock guitarist by night – some nights, anyway.
Cross, who first picked up a guitar while in college at Dartmouth in the 1970s, says these are some of the best days of his life – musically speaking. The postcollege days of angst and trial when his band, Crossfire, was trying to make it in the Syracuse, N.Y., club scene, are over. The days of searching for a "real job" and discovering a knack for administration while working at a group home for troubled youth are behind him as well.
Today, Cross is happy doing his part keeping the Harvard Divinity School running smoothly. And, he says, after picking up his guitar again several years ago, he's also happy playing the Beatles, Rolling Stones, Bob Dylan, Grateful Dead, and Motown music he loves to hear. This time around, he said, he has the freedom to do what he wants to do musically.
"These songs are all great. I love every one of them," Cross said when asked to name his favorite song in the Lowest Common Denominators' repertoire. "My life is too busy to be playing anything I don't want to play."
Today, Cross' band plays publicly perhaps a dozen times a year, at events both on campus and off. The music is familiar and fun, and band practices, when they happen at all, are much more like jam sessions than formal rehearsals. Last August, Cross said, the Lowest Common Denominators played in Lexington Center before a crowd of about 500 as part of an outdoor summer concert series.
"I am sort of shifting from wondering what I want to do when I grow up to wondering whether I'll ever grow up," said Cross, who's been at Harvard for 16 years. "But one thing is clear, I'm having the time of my life with this band."