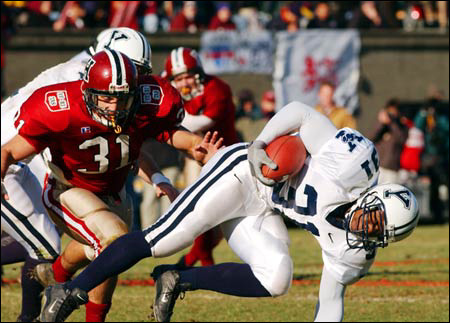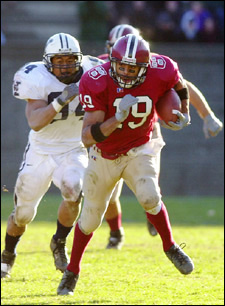 An explosive third quarter lifted the Harvard football team past Yale on Nov. 23, to hand the Crimson a 20-13 Harvard Stadium victory in the 119th playing of "The Game." Facing 35-mph winds, Harvard activated its ground attack in scoring a trio of touchdowns in the third quarter to overwhelm the Elies. Harvard finished its season 7-3, 6-1 Ivy, to claim second place in the league, while Penn snatched the title outright, blanking Cornell, 31-0.
Amid the afternoon's blustery conditions, mud, and 13 thrown flags, Yale earned the game's first tally midway through the second quarter when tailback Robert Carr rushed for a 3-yard touchdown. Yale botched the extra-point attempt, however, to take a 6-0 lead. An attempted Harvard comeback, which included a 28-yard pass from senior captain Neil Rose to sophomore Rodney Byrnes, was promptly terminated by a Yale interception to close out the first half.
Sophomore quarterback Ryan Fitzpatrick, who took the reins from Rose to start the second half, wasted little time in orchestrating Harvard's third-quarter barrage. The play-caller capped a six-play drive with a 4-yard keeper to make it 6-6. An extra point by senior Anders Blewett handed Harvard the 7-6 edge. Less than three minutes later, the Harvard offense took to the air, when Fitzpatrick connected with senior Carl Morris (106 yards on the day) for a game-high 50-yard reception. Morris' completion set up Harvard's second touchdown, another short-yardage sneak by Fitzpatrick. After a failed extra-point attempt, Harvard was up 13-6.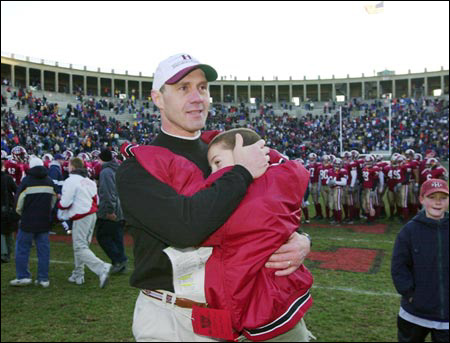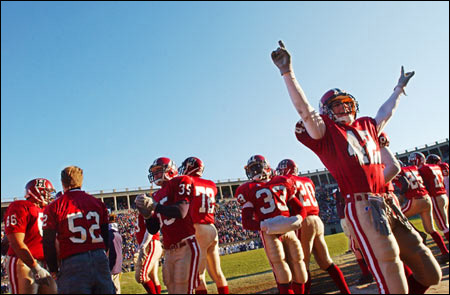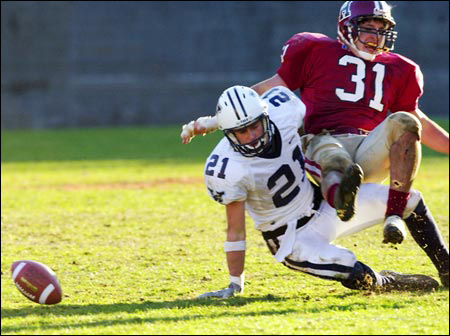 Joining 11 other starting seniors playing in their final game, including offensive power combo Rose and Morris (who end their Harvard careers owning 26 combined school records), Nick Palazzo scored Harvard's final touchdown. The senior running back capped his day's output of 95 yards with a 1-yard blast to better the Bulldogs, 20-6, late in the third stanza. In a bid to play catch-up, Yale notched its final touchdown in the fourth quarter to finish last in "The Game," 20-13.