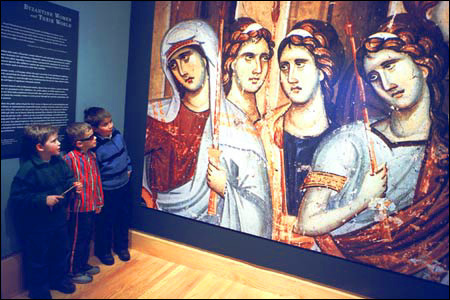 More than 300 children and their families filled the galleries of the Sackler Museum on a recent Saturday (Nov. 23) to learn about ancient fun and games and entertainment. They listened to the Japanese "Tales of Genji" told by Cambridge librarian Daryl Mark, knelt on the floor to play the Roman game of Knucklebones, watched 8- and 9-year-old Indian dancers gracefully perform a dance about an Indian drum called "dholak," and constructed ancient Egyptian rattles called "sistrums" from a variety of materials – including coat hangers, washers, pipe cleaners, and tabs from soda cans.
Free and open to the public, the Sackler Saturdays program is sponsored by the Harvard University Art Museums. Developed for children to explore the museum's collection, the program encourages kids to exlore the art as well as enlarge their knowledge through engaging activities – activities that range from museum-wide quests to storytelling and art making,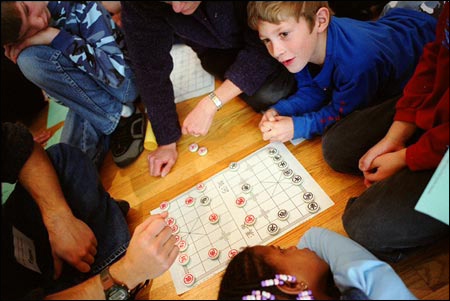 As families from the Cambridge and greater Boston area excitedly participated in the event dedicated to ancient music, games, and dance, 8-year-old Isaac, an avid chess player from Cambridge, declared, "I never knew Chinese chess existed!"
Other highlights of the program included playing the ancient Japanese game called the shell game, where players match pictures on the bottom of clam shells much like they would in the modern games of "Memory" or "Concentration." The children then painted their own clam shells to take home. The activity focused on the museum's own set of authentic painted shells, which are displayed on the second floor. Ancient music from a variety of cultures echoed throughout the galleries, including the tintinabulation of ancient but still melodic Chinese bells.