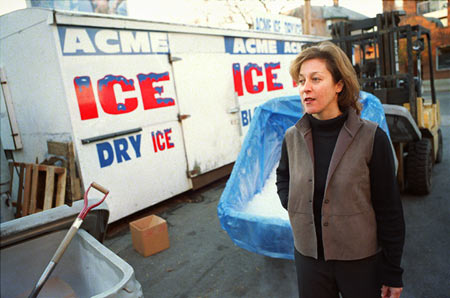 Build a better mobile home and the world probably won't beat a path to your door because chances are you'll have pulled up stakes and moved on. But since your e-mail address will remain the same, they're sure to find you that way.
Humans are changing location more frequently and in greater numbers than ever before in history. But at the same time, the electronic revolution is allowing them to remain in contact with one another to an extent undreamed of only a few decades ago. How does that development affect the concept of architecture?
Jennifer Siegal has given some thought to this question. Siegal is founder and principal of the Los Angeles-based firm Office of Mobile Design (OMD), which focuses on designing "portable, demountable, and relocatable structures." This year Siegal is a Loeb Fellow at the Harvard Design School. The Loeb Fellowship allows up to 12 midcareer professionals in design-related fields to spend a year expanding their horizons with a self-designed curriculum.
"I felt there was a need for architects to look at the way people really live and work," Siegal said. "Today you can be living and working without anyone really knowing where you are – like me."
Siegal's business card demonstrates the truth of this assertion. It does list the address of her Los Angeles office, along with an L.A. phone number, but the phone is mobile and rings in Cambridge. Nor do the e-mail and Web addresses reveal where Siegal might be at any given moment.
This nomadic, spatially fluid lifestyle defines the way many people live these days, whether they realize it or not. For example, the average time people hang on to a home today is only five years.
"For many people, there's no real attachment to place, per se, but more of an attachment to memories, and memories can be stored in a computer."
Siegal admits she's not totally footloose, despite her ownership of an Airstream trailer, that streamlined aluminum icon of American nomadism. She also owns an adobe house in a Texas art colony, and, of course, her Los Angeles digs.
"For me, mobility is not about erasing everything that exists, but adding to the infrastructure in a more environmentally sound way – a more intelligent way of inhabiting the landscape – resting lightly on the ground."
You might say mobility is in her blood. Her grandfather, Abraham Lederman, owned a hot-dog cart in Coney Island. Siegal bought her own hot-dog cart when she was studying at the Boston Architectural Center and used it to supplement her income at events like the Boston Marathon.
"You can really make quite a lot of money that way," she said.
Since founding OMD in 1998, Siegal and her associates have created a number of structures that rest lightly on the ground but have attracted plenty of attention as a result of their ingenious and innovative design. One of the firm's first projects was the Mobile Eco Lab, built in collaboration with the Hollywood Beautification Team, a grassroots group whose mission is to restore beauty and integrity to the Hollywood community.
Using largely recycled and donated materials, including the 35-foot cargo trailer that serves as an exterior shell, Siegal's group created a mobile classroom that travels to schools in Los Angeles County and educates K-12 students about the importance of restoring and protecting the environment. The trailer is designed to expand on-site to provide children with a multilevel, multimedia learning experience.
Also built on a cargo trailer platform is the Portable Construction Training Center, created for the Venice Community Housing Corporation, a nonprofit that develops and maintains affordable housing for disadvantaged and low-income individuals. The training center is a hands-on classroom in which trainees can learn construction skills, including plumbing, painting, carpentry, and electrical work.
The 65-foot Training Center comprises a meeting room and workstations where students can practice various skills. Like the Eco Lab, the Training Center opens out to provide shade awnings and a catwalk from which the instructor can observe the students' work.
Siegal's firm actually has designed a better mobile home. Based on the kind of steel frame structure widely employed in prefab classrooms, the OMD Portable House uses that technology to create a customizable, modular structure that can be set up individually or grouped together. The house uses environmentally friendly materials like Plyboo, a kind of flooring made of quick-growing bamboo rather than hardwood. The design has attracted interest from all over the world.
Other OMD projects include a portable kiosk that can be used for educational or commercial purposes, a roving computer demonstration facility, and a mobile unit for outdoor charity events.
Many of these projects are featured in Siegal's recently published book, "Mobile: The Art of Portable Architecture" (Princeton Architectural Press, 2002). The imaginatively designed paperback, with a foreword by the writer and PBS commentator Andrei Codrescu, contains graphic presentations of mobile architecture by other innovative firms in addition to OMD.
These range in magnitude from Mark Fisher's portable outdoor stages for extravaganzas like the Rolling Stones' "Steel Wheels" tour to an as-yet-unrealized portable environment by the poet and designer Vito Acconci, which is designed to be permanently attached to a person's skeleton.
Siegal, meanwhile, continues to move through life with an ease and mobility that characterize her architectural creations. In 2003 she will have a piece in the Design Triennial at the Cooper-Hewitt National Design Museum in New York and another one in the Walker Art Center in Minneapolis. After her tenure as a Loeb Fellow, she expects to be moving back to Los Angeles to continue her work with OMD.
Although the innovative products manufactured by her L.A. firm have been both critical and commercial successes, there is little chance Siegal will end up a mobile home entrepreneur.
"My soul is in design. I don't want to repeat myself over and over again."