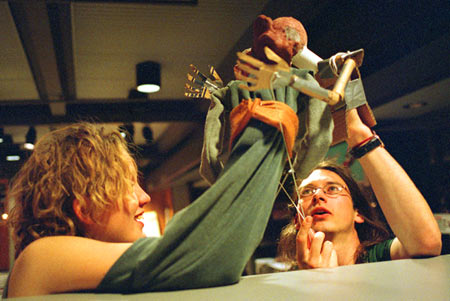 Just a few hours before showtime, Macbeth was undergoing some last-minute plastic surgery.
"We realized he looked too much like George W. Bush," said co-director Emily Carmichael '04, wielding a knife over the would-be king's ears.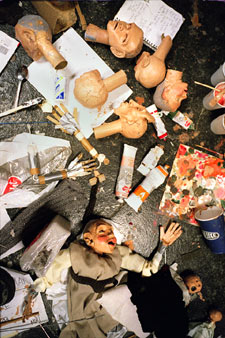 Carmichael and co-director Moss Bittner, a second-semester senior, were putting the final touches on "Macbeth: The Puppet Shakespeare," a production of the Adams House Drama Society that was staged last weekend at Adams House's Kronauer Space. Shakespeare's tragic drama gets a faithful, if fanciful, telling with handmade puppets voiced by student actors.
Bittner's previous puppet production of Mozart's opera "The Magic Flute," which sold out its three-night run several years ago, was the inspiration for tackling the Bard with actors made of cardboard and clay. He said the medium focuses their production on the pathos of "Macbeth."
"It kind of heightens your awareness of the intensity," he said.
Carmichael added that the exaggerated, toylike quality of the puppets helps bridge the artificial gap between humor and seriousness. "We think of intense drama and hilarity of being opposed, but they're not," she said.
While creating the physical manifestations of the characters also enhances the drama – Bittner noted that he can bring out family resemblances in related characters in a way human actors can't – it's precise, time-consuming work. As Carmichael reworked Macbeth's ears, Bittner fashioned hasty costumes for some minor characters and works to secure Lady Macbeth's dress, which fell off during a rehearsal of her climactic soliloquy.
Still, the students met the challenge with energy and enthusiasm, handling the business aspects of the production on top of the artistic elements. "The hardest part is doing it without sleep," said Bittner. Although it might help him empathize with Lady Macbeth.