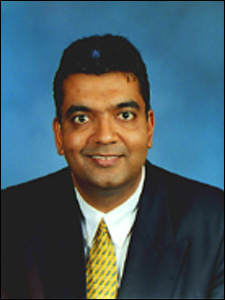 The World Economic Forum (WEF) has announced that Srivatsa Krishna, a master's of business administration degree candidate at Harvard Business School where he is currently on sabbatical, has been selected to the 2003 class of Global Leaders For Tomorrow (GLT). Each year, after an impartial and extensive global consultation and nomination process, WEF selects 100 leaders – from both the corporate and public sectors – who will help shape the future of the world.
Those selected as GLT must be under the age of 37, hold positions of influence and responsibility, and have demonstrated their capacity to shape future agendas in their communities, countries, and in the world at large. The selection criteria include leadership, professional development, contribution to the GLT community, and an outlook on social and global issues.
Krishna is currently co-authoring a case study with HBS Professor Michael Porter, the Bishop William Lawrence University Professor, on technology clusters and economic development in India. The case study will form a part of a global course taught at HBS.
After scoring high on the Indian Civil Services Examination, Krishna joined the Indian Administrative Service (IAS) in 1994. More recently, he was part of the core information technology team for the government of Andhra Pradesh, India's fifth-largest state. Prior to that he held various assignments in Delhi and is considered to be one of most dynamic and upright civil servants of his generation. He was educated at Modern School in New Delhi, the University of Delhi, and the Jawaharlal Nehru University in India. He has done consulting assignments for the World Bank, NASDAQ, The Conference Board, and the U.S. Agency for International Development.
"First and foremost I see the GLT recognition as an important honor for India, the IAS, for HBS, and thereafter for me, personally," Krishna said.