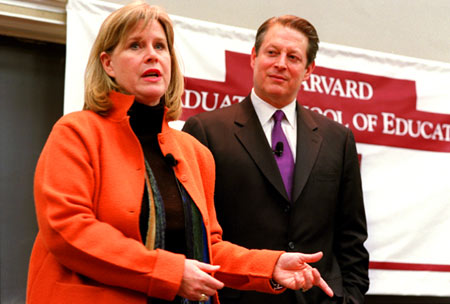 At the Askwith Education Forum at the Graduate School of Education (GSE) Friday (Dec. 6), Al Gore introduced himself as the former next president of the United States and closed with a cautious endorsement of the electoral college system that kept him from that post in 2000.
In between, however, he kept politics to a minimum as he shared the podium with his wife, Tipper, a family advocate and photographer, to discuss the changing role of the American family, the subject of two new books by the couple.
"Joined at the Heart: The Transformation of the American Family" is a heavily researched history of the evolution of the American family punctuated with stories from the Gore household as well as from a dozen families they studied, and "The Spirit of Family" illustrates with photos the range of what "family" means today.
Talking politics, recommending policy, or sharing their own family stories, the Gores were relaxed, funny, and personable. The audience of 800 – 500 of whom watched a simulcast from an overflow room across the street at Gutman Library – greeted them with warm enthusiasm.
"The nature of family has changed dramatically over the last 40 years," said Al Gore, citing familiar but nonetheless alarming statistics. In the past four decades, he said, the divorce rate has gone from one in four marriages to one in two; the numbers of single-family households, "blended" families, and unmarried couples living together have all increased dramatically. One-third of all children are raised in single-parent households, and 60 percent of all mothers with children under 6 years old work full time outside the home.
"If you look at those raw statistics, you might come to the conclusion that the American family is falling apart," he said. Rather, he said, families are responding to external pressures. A century or even 50 years ago, families were a central economic unit, producing many of their own goods and providing their own services.
Now, families look to the marketplace for everything from food and clothing to academic, moral, and spiritual instruction. "They've been outsourced," he quipped.
Emotional intimacy remains the only connection for many families. "If we go from multiple points of connection or adhesion to only one point of connection, emotional intimacy, that puts a lot of pressure on that emotional relationship," he said.
While "Joined at the Heart" is not primarily a policy book, Gore nonetheless hinted at connections between the changing pressures on American families and public policy solutions. Rising personal debt and increasing workloads – the average American now works three weeks longer than the average Japanese – are squeezing families' time together. Echoing research done by Graduate School of Education faculty, Gore strongly advocated for the nation to provide high-quality child care.
"We've been blinking away this enormous problem … related to low-quality or mediocre child care," he said.
From Ozzie and Harriet to Ozzy Osbourne
Embracing Cambridge-style "family values," the Gores stressed that families are redefining themselves beyond Mom, Dad, 2.3 kids and a white picket fence.
"We are somewhere between Ozzy Osbourne and Ozzie and Harriet," said Tipper Gore, introducing the photographs in "The Spirit of Family."
Photographs "can evoke changing attitudes even more powerfully than words can," she added. The photos, by well-known photographers such as Annie Liebowitz and Mary Ellen Mark as well as by unpublished family photographers, illustrate the cycle of life and the range of personalities who define themselves as "family."
Still, Tipper Gore's favorite photo, called "Where Jack Got His Red Hair," celebrates a traditional family, albeit with a wink. In it, a copper-topped infant swims with his naked father, who is holding him at waist-level.
The Gores, married for 32 years with four children, revealed some of their own family stories, joking and teasing each other. Recalling the relative ease with which they worked together to produce these books, Al Gore said that he had moved beyond the traditional three stages of a relationship, romantic infatuation, power struggles, and mutual acceptance.
"I'm actually in the fourth stage, which is abject surrender," he said.
They began to think seriously about the nature of family when their youngest son was badly injured 13 years ago, they said. For the past 11 years, they have convened an annual two-day forum exploring public policy and family issues called Family Re-Union.
The Gores fielded presubmitted audience questions that further probed their work on families and tapped Al Gore's perspective on the environment, the 2000 election, and the future of the Democratic Party.
"The Democratic Party has to be bold and true and has to be the loyal opposition in fact and not just in name," he said. "Where there are differences, do not flinch from the necessity of … defending those differences regardless of what the public opinion polls say."
While the audience was supportive of the Gores, some noted that the book's claims were hardly groundbreaking to the students, educators, and researchers at the GSE.
"We've been working with nontraditional families for years," said Susan Hoganes, who is pursuing the M.Ed. in human development and psychology. "But on another level, his book is going to influence more people in the United States than any of us here will."