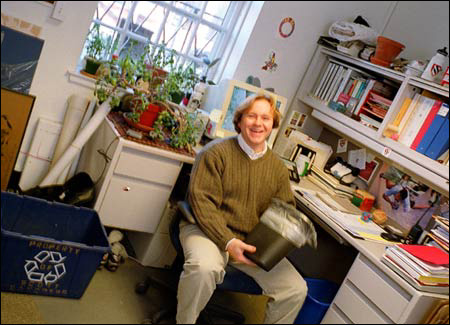 The environment was his passion, both professionally and privately. Scott Sandberg, 32, a building services coordinator for four years at the Radcliffe Institute for Advanced Study, was killed Friday (Nov. 29) in a surprise avalanche at Tuckerman Ravine on New Hampshire's Mount Washington.
Sandberg was caught in the falling snow and ice as he prepared his equipment for the ascent.
"Scott loved rock climbing, ice climbing, and hiking, and he was incredibly committed to it," said Sandberg's colleague and friend, John Horst, director of facilities at the Radcliffe Institute. "He did a lot of training, and he wouldn't exceed his capacity. He understood the risks, which is part of why this shocks me." A moderate avalanche warning was posted in the ravine for that morning – a warning level under which climbers routinely climb, said veteran hikers at the site.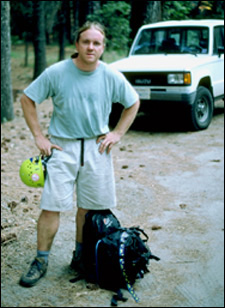 Known to his Radcliffe Institute colleagues as the "recycling king," Sandberg won an award from the city of Cambridge two years ago for running an ambitious campaign that increased Radcliffe's recycling rate from 25 to 72 percent, said Horst. Sandberg's care for the environment was also evident in his active membership with the Appalachian Mountain Club and the Access Fund, a group dedicated to preserving access to climbing destinations and promoting environmentally responsible hiking.
Friends say, however, that what Sandberg loved most was his young daughter. "He took great pride in her accomplishments," said Horst.
At an informal memorial service held at the Radcliffe Institute on Monday (Dec. 2), colleagues expressed grief and shock at Sandberg's sudden death, and remembered his gentleness – and his ability to use that gentleness to change people's habits.
"Scott was passionate about the environment and about social justice, but he sought his goals with an insistent and unrelenting gentleness and a wonderful sense of humor. He touched every one of our lives. He is, after all, the reason that none of us at Radcliffe has a waste basket. One night several years ago he swept them all away and replaced them with our blue recycling bins. He thus brought a quiet revolution to Radcliffe and to all our lives. We are all diminished by his loss," said Radcliffe Institute Dean Drew Gilpin Faust.
Sandberg was a Navy veteran who served on the USS Arkansas as a firefighter and was a graduate of the John Jay College of Criminal Justice in New York, where he studied fire science. He is survived by his wife, Rona, and daughter, Jessica. Memorial donations may be made to the Scott Sandberg Memorial Fund, care of the Medford Cooperative Bank, 856 Massachussettes Ave., Arlington, MA 02476.
Compiled from coverage in the Boston Herald and The Boston Globe, with original reporting by the Radcliffe Institute Office of Communications.