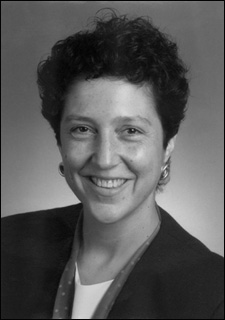 Janet A. Viggiani, the beloved senior tutor of Adams House from 1989 to 1993, died Nov. 8 of breast cancer. She was 48.
"We all – staff, students, and tutors – loved Janet for her goodness and her gusto, and we all respected her for her judgment and moral clarity," said Robert Kiely, Loker Professor of English, Harvard College Professor, and former house master of Adams House.
"Janet was one of the most generous, delightful, warm, compassionate, intelligent people I've ever had the good fortune to know," said Victoria Macy, assistant to the masters at Adams House. "A light has gone out of a world which can ill afford such a loss."
Viggiani fought cancer for over a decade, while building a career and making lasting friendships. Even after her diagnosis, she continued to advise Adams House students, lying flat on her back in her office while convalescing from surgery. She was nicknamed the "dancing dean," for her love of dancing and frequent appearances at Adams House parties and Boston clubs.
Otto Coontz, assistant to the Adams House senior tutor, noted Viggiani's remarkable ability to connect with people. "She never forgot the value of the individual she was dealing with," Coontz said. "She always made you feel special; she always saw the best in everyone. And it made you go for the best in yourself."
Viggiani decorated her office with puzzles and joke books and little magnetic games. They gave students something to fidget with, something to relax with, as they worried about their schoolwork or their personal lives. Viggiani, who received her B.A. from Smith in 1978, served as a career counselor and the assistant director of Radcliffe Career Services before coming to Adams House. From 1989 to 1993, she also served as the College's assistant dean for co-education; she formed the College's first gay, lesbian, and bisexual caucus; and she chaired the Administrative Board's task force on date rape.
Viggiani earned her Ph.D. from the Graduate School of Education in 1991. Undaunted by her diagnosis, she decided to forge ahead with her dreams and plans.
Traveling solo around the country, Viggiani received word that she had gotten into Harvard Law School. Her yearlong road trip refueled her in more than one way. "She liked being in nature, and she really loved being alone, as social as she was," said Coontz. "It seemed a very natural thing for her to do, to just pack up and jump in her car, and head across country, and that's what she did."
Earning her law degree in 1996, Viggiani practiced employment law at the Boston firm Hill & Barlow until 2000. Then-colleague Richard Alfred, who later became close friends with Viggiani, recalls her "uproarious laugh" and indomitable spirit. "She was full of life, full of energy, full of enthusiasm, as smart as a whip, just incredibly dedicated, tenacious, loyal as a friend, and very honest. Clients adored her, clients just absolutely loved working with her." Viggiani counseled clients on matters of discrimination in the workplace related to race, gender, disability, or age. In the spring of 2000, she was hired as general counsel and assistant to the president of Simmons College, where she worked until 2001.
By then, her cancer had spread widely. The last time Coontz saw Viggiani, in the spring of 2001, he and Macy met their friend at a farm in Sterling, Mass. They ambled, they picnicked. In the heat of the day, Viggiani – whose thick, black, curly hair had fallen out – removed her wig and let the sun shine on her head. "We just knew that she felt like it was time," Coontz said. His friend had decided to move to Colorado. "She was still very upbeat, she never really talked about being sick, but I could tell there was a kind of a decision to live a different kind of life. To really just be in nature, completely, and a decision to be on a full-time spiritual path."
Viggiani died in Colorado, in a log cabin at the foot of majestic mountains.
"We all have our pictures of Janet," said Kiely. "One is of her holding office hours while lying on the floor resting an aching back. Another is of her standing alone in a forest clearing with the sun lighting up her profile in perfect repose. For me, it is always morning in the Adams House office and Janet is sipping her coffee, laughing, and completely ready for what the day will bring."
A recent College graduate, one of many students whose lives were changed by Viggiani, wrote to Coontz recently to say that, during a severe crisis in his undergraduate years, he could not have survived without Viggiani's support. Coontz paraphrased this private message:
"Dear Otto, wherever she lies, can you please place a rose there for me."