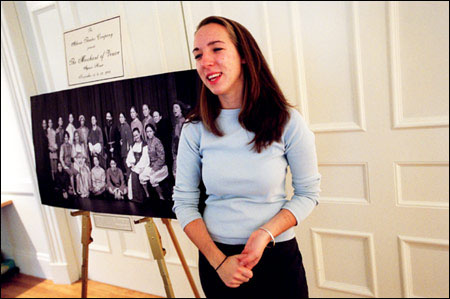 Every evening this past summer, after returning from her job at the Baltimore City Health Department, Laura Perry '04 read and re-read Shakespeare's play "The Merchant of Venice." When she was not doing that, she was either reading criticism about the play or developing her own ideas about what it means and how it should be staged.
Meanwhile, back in Cambridge, Julia Fawcett '04 was conducting theatrical research of a different kind. The focus of her inquiry was not "The Merchant of Venice," per se, but a 93-year-old photograph of a group of women – members of Radcliffe's Idler Club – who had put on a production of the play. Spending her days in University Archives, Fawcett learned the names of the actresses and pored over their letters, diaries, and class notes, discovering the young women behind the Renaissance gowns and fake beards.
The photograph is well known to everyone who has ever stepped inside Elizabeth Cary Agassiz House, the imperiously colonnaded building at the apex of Radcliffe Yard, named for the first president of the women's college. Enlarged to mural size, it occupies the wall that faces the main entrance and immediately draws the gaze of anyone entering the building.
Since Agassiz House, by virtue of its placement and its massive columns, unequivocally commands Radcliffe Yard, and the photo commands the building's entranceway, one might conclude that this is a very important photograph indeed. And in fact, that conclusion would not be wrong.
"By 1909, the Idler Club had become a huge thing," Fawcett said. "A hundred percent of the students at Radcliffe were in the club. It was a central part of Radcliffe's identity."
Radcliffe, she explained, had a reputation among women's colleges as a school for the arts, and the theatrically oriented Idler Club was the chief engine of artistic activity. It was founded in 1884 and survived until 1953, producing numerous plays and nurturing the careers of some notable professional theater women.
Flash-forward again to 2002. The event that ties together Fawcett's archival research with Perry's theatrical deliberations is a new production of "The Merchant of Venice" by the all-female Athena Theatre Company. The new production had its debut last Friday (Nov. 15) with subsequent performances on Saturday and Sunday. It will be performed again this Friday and Saturday (Nov. 22-23).
Presented in Agassiz Theatre, on the same stage as the 1909 production, the play coincides with a special exhibition compiled by Fawcett, titled "Playing Their Part: The Idler Club and the History of Women's Theatre at Harvard and Radcliffe."
The exhibition occupies the Baker Room in Agassiz House and is arranged chronologically. The club was Radcliffe's first student organization, and its identity as a theatrical club began with its second meeting when the members agreed to stage a few scenes from Shakespeare's "Henry V." These early productions were hampered by the fact that the actresses, even those playing male roles, were forbidden to show their legs, a restriction enforced through regular inspections by President Agassiz herself.
By the club's heyday, in the early part of the century, these restrictions had eased somewhat, while its theatrical ambitions had grown. An interesting sidelight is the fact that George Pierce Baker, professor of rhetoric at Harvard, whose course in playwriting was later to have an important influence on Eugene O'Neill, Phillip Barry, and other American playwrights, actually began teaching the course at Radcliffe. Beulah Dix Flebbe, later the author of several popular Broadway plays, was a student of his.
Some Idler Club members went on to acting careers as well, including Josephine Sherwood Hull, who played one of Cary Grant's aunts in the Frank Capra film of "Arsenic and Old Lace."
Later in the century, Mary Manning Howe, who had trained at the Abbey Theatre in Dublin, was hired as the Idler Club's director and staged many notable productions, including "Oedipus Rex." But by the 1940s, with the merging of Harvard and Radcliffe classes as well as student organizations, the Idler Club began to lose ground to the Harvard Dramatic Association.
According to Fawcett, who interviewed several women who had been Idler members during those last waning days, there was a certain inevitability to the club's demise.
"Most of them said: 'Too bad it's gone, but it died a natural death. It was a product of changing times.'"
But then what of the all-women Athena Theatre Company and its revival of "Merchant"? Is there any justification for a female company beside the novelty of bringing old photographs to life?
"I think times have changed since the 1950s," said Fawcett. "Back then women were just realizing they could be part of the professional world. Now women have reached a lot of those goals, and they realize all-women organizations are important because they help them to have an identity of their own in addition to their professional identity."
Perry sees both the Athena Company and the new production of "Merchant" as modern variations on an old theme.
"Like the Idler Club, the Athena Theatre Company mixes theater with social activity, it promotes community, and it develops friendships. It's also a tribute to what women have done in the past, a way of saying thank you for doing what they've done so we can do what we do with less struggle."
'The Merchant of Venice,' Agassiz Theatre, 10 Garden St., 8 p.m. Friday and Saturday (Nov. 22, 23). Tickets ($8 general, $6 for students and senior citizens) are available at the Harvard Box Office (617-496-2222) in the Holyoke Center Arcade.