Women from conflict-ravaged nations around the world gathered at the Kennedy School of Government last week for a colloquium focused on how to empower women worldwide to work for peace.
The fourth annual Women Waging Peace Colloquium, sponsored by the Women and Public Policy Program at the John F. Kennedy School of Government, brought 35 women from Afghanistan, Iraq, Northern Ireland, Colombia, South Africa, Kosovo, Rwanda, and many other nations in the midst of war, internal strife, or rebuilding from conflict.
The weeklong colloquium, which ran from Nov. 2 to Nov. 8, featured sessions on everything from articulating a message to gender issues and negotiation to policy workshops. The program's last day featured a plenary session in the Kennedy School's ARCO Forum. The session included a keynote address by Jayantha Dhanapala, the United Nations' undersecretary general for disarmament affairs, and a panel discussion featuring women from the Democratic Republic of Congo, the Philippines, and Kosovo.
Kennedy School Academic Dean Stephen Walt welcomed the delegates to the plenary session, saying that women's influence on global affairs has yet to be completely felt.
"Many of you have courageously chosen to work for peace from the ground up," Walt said. "The contribution women can make to global security has yet to be fully realized."
Swanee Hunt, director of the Women and Public Policy Program and founder of Women Waging Peace, introduced the session, saying that while serving as ambassador to Austria in the mid-1990s she realized she hadn't done enough to stop the tragedy in the Balkans. It was that realization, she said, that made her begin to look for ways to change how crises are handled.
"The number of conflicts, displaced people, and deaths are not diminishing," Hunt said. "The paradigm has to be changed. That's why you're here."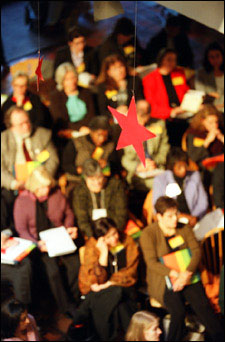 Dhanapala said that humanity has a big stake in promoting gender equality and disarmament. He cited the resources used in arms buildups as funds that could be diverted to more constructive uses. He said protests by women played an important role in ending atmospheric nuclear testing after contaminants began showing up in breast milk. That showed the potential for women to influence continued efforts at disarmament.
"When women move forward and disarmament moves forward, the world moves forward," Dhanapala said.
During the panel discussion that followed Dhanapala's speech, Faida Mitifu, ambassador to the United States from the Democratic Republic of Congo; Amina Rasul-Bernardo, founder of Magbassa Kita Foundation Inc. and president emeritus of the Muslim Professional Business Women's Association of the Philippines; and Vjosa Dobruna, from Kosovo, now a fellow at the Carr Center for Human Rights Policy, shared their experiences.
Mitifu told of the sexism she experienced from the start and how when flying to the United States to take her new post the airliner crew assumed a man seated near her was the new ambassador. Dobruna told of working to get women representation in Kosovo's new government. And Rasul-Bernardo told of having to manage difficult people from international organizations seeking to help Philippine youth.
"My mother told me that if you want something, to be relentless. Things are difficult and it's 99 percent perspiration, 1 percent inspiration," Rasul-Bernardo said. "She also said you catch more bees with honey than with vinegar."
Joining the three was Donald Steinberg, principal deputy director of policy planning at the U.S. State Department. Steinberg told the audience that they shouldn't assume government officials know what's going on and that it is part of the mission of U.S. diplomats to further women's rights. He said they should be held to that.
Hunt closed the session, saying that change is slow, but with the efforts like those of the women who attended the colloquium, it will happen.
"Movements don't happen in a year or two years or four years," Hunt said. "They happen gradually with thousands of moving parts and conversations and documents and defeats. The first time you say something, they may not hear you, or the third time or the 30th. But that 31st time, they will hear you."