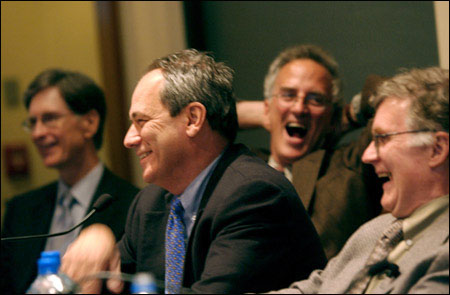 For a discussion on labor negotiations, this past Friday's (Nov. 15) forum at Langdell Hall on Major League Baseball's (MLB) latest round of collective bargaining was as cordial as they come. So cordial, in fact, that panelist Andrew Zimbalist, a leading sports economist at Smith College and author of "Baseball and Billions: A Probing Look Inside the Big Business of Our National Pastime" (Basic Books, 1992), couldn't resist dubbing the resounding goodwill among the panel's union representatives "a love fest."
Such a characterization – accurate or otherwise – is almost unheard of when it comes to the typically troubled relationship between players and owners that has long bogged down professional baseball. Since 1972, eight work stoppages have haunted the sport, with each strike or lockout mercilessly dashing fans' trust, faith, and hope in America's favorite pastime. The 2002 season was no exception, with the fear of an abandoned season – the fan's equivalent to "coitus interruptus," according to Zimbalist – taking its toll on consumer confidence. Starting in January, when less-than-productive talks between owners and the player's association spurred murmurs of a potential walkout, ticket sales began to drop. After all, to paraphrase forum participant Peter Gammons, journalist and studio analyst on ESPN's "Baseball Tonight," who wants to hear about billionaires fighting with millionaires?
At the three-hour forum, "Saving Our National Pastime," some of professional baseball's heavy hitters, including Mike Weiner, associate general counsel of the player's association, and Rob Manfred, MLB chief negotiator, touched on their strategies in negotiating this past summer's deal – a deal that Commissioner Bud Selig deemed "historic."
"I believe that this negotiation will prove to be a watershed in terms of our labor relations," Manfred said at the forum, which was chaired by Law School Professor Paul Weiler and sponsored by the Law School's Committee on Sports and Entertainment Law and the School's Labor and Worklife Program. "All too often, in our bargaining history, one side or the other overplayed its hand," he explained. "This time both sides avoided the temptation for brinkmanship."
"We got a deal because of a lot of hard work by a lot of people, all over the industry," Weiner agreed. "We could lapse into our bad traditions. And I hope we don't. Or we could try and do something differrent."
Fortunately, for legions of fans, this something different was achieved. This time around, according to both Manfred and Weiner, a more mature, optimistic, and cooperative mantra prevailed in the boardroom bargaining sessions, unlike in past discussions, where communication came in the form of prepackaged speeches. And though it went down to the wire, a settlement was eventually reached in the wee hours of Aug. 30, narrowly averting another work stoppage like the 1990 lockout or the World Series-killing strike of the 1994 season. In avoiding a walkout, the owners and player's association had hit a grand slam.
The new agreement, good through 2006, includes a competitive balance tax, or luxury tax, which penalizes clubs that spend excessively on payroll. The contract also includes a new revenue sharing plan, in which 34 percent of a team's locally generated monies go in to a collective pot (up from 20 percent), in an effort to level the playing field by giving poorer teams a larger share of the wealth to acquire talent. Part of the deal also calls for the suspension of contraction – in this case, the elimination of the Minnesota Twins and Montreal Expos – through the term of the deal.
Despite a hugely successful World Series between the San Francisco Giants and the Anaheim Angels, a West Coast match-up that garnered surprisingly high television ratings, the new deal is not without its skeptics. Zimbalist contends that discord among the owners – "the three-headed monster" of big, middle, and small-market teams – will continue to be a key problem for the league. "Baseball as an industry means different things to different owners," he says. "The commissioner has a difficult time rallying them together for a cohesive view about what needs to be done for the future of baseball." Weiner, himself a pivotal figure in the settlement, reminded the near-capacity crowd that this latest agreement is not all roses:
"We have not resolved our differences," he says, citing the divisions in what owners and players regard as a fair share of revenues devoted to player compensation. He further wondered if the settlement is the best way to establish a competitive balance throughout the league. However, Weiner was quick to point out the value of a done deal. "Fortunately, we don't have to resolve that. All we had to do was make a deal."
Diehard fan Gammons expressed gratitude for the new agreement, praising Manfred and Wiener "for bringing rationality to a 30-year religious war." A baseball journalist for the past 31 years, Gammons discounted the "propaganda" surrounding the perceived inability of smaller-market teams, like the World Champion Angels, to compete against the league's larger-market clubs. After the agreement was reached, he said, everything seemed to change.
"I want to thank these two gentlemen," Gammon concluded, referring to Weiner and Manfred, "for setting us in the right direction – for not saving the game, but putting it back where it should be."