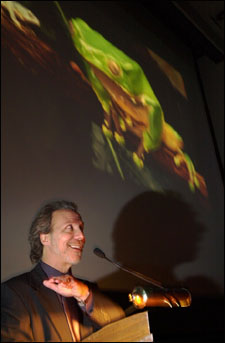 It's easy to think humankind is above nature in this age of genetically engineered corn, superdrugs, microsurgery, and all the man-made comforts that insulate us from nature's harshness.
Easy, but wrong.
That was the message Thursday night (Nov. 7) from ethnobotanist Mark Plotkin, who spoke before approximately 70 people in the Science Center for an event sponsored by the Harvard Extension School's Alumni Association.
Plotkin, who earned a bachelor's degree from the Extension School in 1979, went on to earn master's and doctoral degrees and worked for years in the Amazonian rain forest with indigenous peoples. He focused his work on medicine men and shamans in an effort to learn the medicinal value of jungle plants. He garnered the public's attention with the publication in 1994 of "Tales of a Shaman's Apprentice," in which he chronicles his work in the Amazon.
The experience transformed Plotkin and made him a champion of indigenous peoples as keepers of a rainforest that Plotkin believes is more valuable to humankind as a standing resource than as a logged and mined wasteland.
Plotkin's experience showed him that, even in this day and age, humankind has uncovered just a fraction of the chemical compounds available in nature, compounds which are the root of everything from aspirin, originally found in tree bark, to the cancer-fighter taxol, found in yew trees.
And with the explosion in recent years of drug-resistant bacteria, which is the subject of Plotkin's newest book, we need all the help we can get.
"Nature has been inventing … chemicals for 3 billion years. A chemist in his wildest dreams wouldn't have thought of taxol," Plotkin said.
Plotkin's talk, which lasted just over an hour, blended his earlier work in the rainforests with information from his new book. He talked about drug discoveries from rainforest plants, the interdependence of indigenous people and the forest, conservation efforts in the forest, and the rise of drug-resistant bugs that might require the discovery of some still hidden compound.
Plotkin admitted that an ethnobotanist might seem an unusual person to write about drug resistance and infection, but said 85 percent of our medicines still come from nature, and respect for nature – both for the benefit and the harm it can do – is a common thread in both areas.
"It's the same story," Plotkin said. "We screw with nature at our peril."
Plotkin presented a laundry list of dangerous infections that have recently grown more dangerous, citing strains of tuberculosis that are resistant to all existing drugs as a dangerous recent development. Originally confined to Siberian prisons, at least one former inmate there carrying the multidrug-resistant strain purchased clean chest X-rays on the black market that allowed him to travel out of Russia, resulting in several additional cases.
Plotkin also cited the case of Staphylococcus aureus, which he said "has more weapons than the Batmobile" as particularly worrisome. While writing the book, Plotkin said, physicians repeatedly said they were concerned that the bug would develop resistance to the antibiotic vancomycin. Just before publication, it did, forcing Plotkin and co-author Michael Shnayerson to go back and rewrite the end of the book.
In response to the evolution of these drug-resistant strains, Plotkin recommended courses of action that smack more of folk cures than cutting-edge medicine. The best course is to stay healthy, Plotkin said, by getting plenty of rest, eating well, washing your hands, and avoiding antibiotics unless they're necessary. The unnecessary use of antibiotics in everything from medical prescriptions to the nation's food supply is at least partly to blame for the rise of today's drug-resistant strains.
"Your mother was right. Get plenty of sleep, take your vitamins, and eat well," Plotkin said. "Your mother was right, wash your hands."