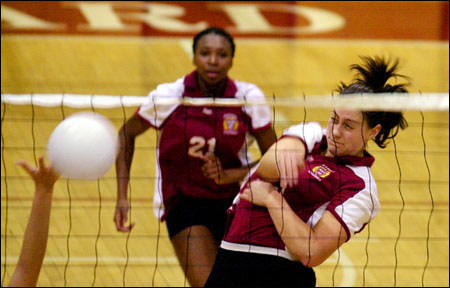 Pennsylvania's women's volleyball team continued its hassling of the Crimson this past Saturday (Nov. 9) at the Malkin Athletic Center (MAC), sweeping the Harvard hitters in three games: 30-15, 30-14, 30-21. The shutout marks Harvard's second defeat of the season against the Quakers – who endure as the only Ivy team to earn a pair of wins over the Crimson this year. With the loss, Harvard (13-10, 9-3) drops to second place in league standings, while the Quakers (19-4, 9-3) climb to the No. 1 spot.
Penn's solid floor defense limited Harvard's attackers to single digits. Sophomore Pernilla Schweitzer notched nine kills and seven digs in the losing effort, while Kaego Ogbechie '05 – averaging 4.61 kills to lead Harvard's offense – posted nine kills. Senior captain Mindy Jellin made her final home match count collecting 27 assists and 14 digs. She'd posted a whopping 59 assists and eight digs in a 3-2 loss to Princeton on the previous day.
In the end, the Blue and Red's offense proved too hot, with the visitors producing three players in double-digits in the kills category.
Still in the hunt, Harvard must win its remaining road games against Cornell and Columbia (Nov. 15 and Nov. 16, respectively) for a shot at the title, while, complicating matters, Penn must drop at least two of its last three outings. The Crimson ballers last won it all in 1997.