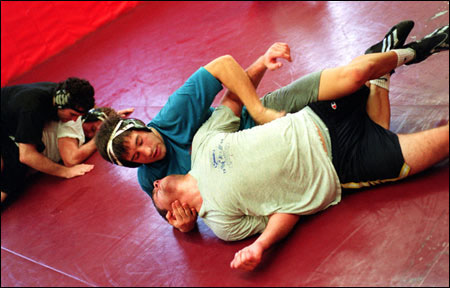 His Olympic dream began decades ago, at the knee of his dad, watching the Olympics together on television. It might have been 1988, or 1992, Harvard junior Jesse Jantzen isn't sure. What he is sure of is that even at age 6, when the 1988 games occurred, he had already been wrestling in tournaments for a year or two.
Unlike many kids inspired by the quadrennial competitions, Jantzen's dreams didn't die. In fact, his recent run as an All-Ivy and All-American wrestler at Harvard has only fueled his hopes.
These days, Jantzen is usually up and out of Mather House by 8 a.m. for an hour or two of working out. After that, he eats breakfast and heads to class. After attending classes all afternoon, he usually will work out, either wrestling, running, or lifting weights for another two hours, before heading back to Mather to eat and do some schoolwork.
Jantzen says he enjoys the combination of athletic work and schoolwork. He said he is happiest when he's active all the time. And he is.
It doesn't hurt to be successful as well. Last year, during Jantzen's sophomore season, he was a unanimous first-team All-America pick, having been defeated just three times – twice by the national champion in his weight class. After the wrestling season ended, he went on to wrestle in two national tournaments, placing fifth and fourth. While that result was not enough for him to go on to the world championships last summer, it is enough for him to think he has a legitimate shot at the U.S. Olympic team in 2004.
With this season getting ready to kick off this coming weekend at the East Stroudsburg Tournament, Jantzen and three teammates are fresh off a tune-up last weekend at the Bearcat Open in Binghampton, N.Y. Even with the cut under his right eye from a head butt, Jantzen said he's ready for the weekend's coming matches and hopes this year proves even more successful than last.
"We're kind of tired of just wrestling each other and beating each other up," he said.
Jantzen knows he'll have to wrestle well to achieve his goals because there's a lot of wrestlers in his 149-pound weight class. And last year's champion is back.
Though he's always enjoyed the training, Jantzen said this year he's trying to appreciate the journey a bit more, so that an eventual defeat isn't so disappointing.
Of course, the ultimate goal would be to not taste defeat.
"I want to be in the best shape, to be wrestling my best in March. My focus is on that," Jantzen said.