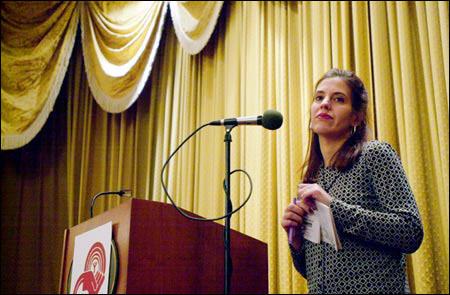 When Katya Fels '93 was a Harvard student, she discovered that the undergraduate women she counseled on the Response hotline for survivors of sexual assault had a lot in common with the homeless women she met as co-director of the Harvard Square Homeless Shelter.
"I was really profoundly struck by how similar their stories were," she said. Nearly all the homeless women she met, like the Response callers, had been sexually assaulted or abused. What separated the two groups, she realized, was that the support systems available to the Harvard students eluded the women who'd become homeless.
Fels returned to her alma mater Friday (Nov. 1) to make another connection with the Harvard community. She shared the story of On the Rise, the organization she founded in 1995 to support homeless women, with President Lawrence H. Summers and 150 University volunteers who gathered to kick off the annual Community Gifts Through Harvard campaign.
"Many of our contributors are people who work at Harvard," said Fels. "It is such an important part of our being able to give 300 women a year safety and support."
Summers underscored the importance of supporting groups like On the Rise. While the University has long stood for intellectual leadership, he said, it's increasingly hearing the call for moral leadership.
"It is all very well for us to think great thoughts, but we also need to do good deeds," he said.
Summers announced this year's goal for Community Gifts – $1,100,000, up from last year's $1 million goal – and thanked the volunteers who coordinate solicitations and giving throughout the University. Alan J. Stone, vice president of Government, Community and Public Affairs, is this year's Community Gifts Through Harvard chairperson.
Harvard employees will receive pledge cards in the mail this week and have until the end of November to make gifts, either by cash or check or payroll deduction, to the United Way of Massachusetts Bay or individual organizations such as On the Rise.
Fels, along with United Way senior vice president of community investments Marilyn Chase and Amy Haelsen of the Make-A-Wish Foundation of Massachusetts, spoke passionately about the need, particularly in the current economic climate, for support.
"Being homeless in Cambridge, in Boston, in Somerville is the most dehumanizing experience I can think of," said Fels.
Helping women on their own terms
Describing On the Rise as providing daytime services for homeless women who fall through the cracks, Fels said her organization serves 25 women per day at its house between Central and Inman squares.
"It's different from a drop-in center because the outreach workers aren't just here to get a woman a toothbrush or clean clothes," she said. Rather, On the Rise's five outreach workers build trusting relationships with women, helping them secure their safety while working with them on their own terms.
Letting homeless women direct their own programs – whether just seeking safe haven and a warm meal or pursuing a detox program, mental health counseling, or sobriety – is what makes On the Rise unique, said Fels.
"It says to a woman, 'We're respecting the choices that you're making,'" she said, adding that the approach gives homeless women a much-needed sense of control over their lives. "There's no one right way for a woman to better her own situation."
On the Rise's holistic approach is particularly vital as the state's belt tightening squeezes social safety nets. Fewer supports are available, Fels said, to address the range of issues homeless women face, from domestic violence to mental illness to substance abuse.
"We're the mortar between the cracks," said Fels.
With 80 percent of its funding coming from sources other than the government, On the Rise has maintained ongoing support and flexibility as other social services have struggled. The organization finds it increasingly challenging, however, to connect women to other community services they need to get back on their feet.
"When I started the program, if women got to a point where they wanted to go to a shelter, we could get them in," said Fels. Now, she said, shelters across the city are full to capacity, even before winter sets in.
"It has gotten really hard to close at the end of the day," she added. "The women see the few supports they have sliding out from beneath them."
The economic downturn makes the support from individuals like those at Harvard even more crucial, said Fels, acknowledging the University's ongoing support, through Community Gifts as well as through the students and staff who volunteer with the organization.
"These are the community connections that help the women to feed back into the community in real ways," said Fels. "Women are not coming here to be diagnosed or treated. They're coming here to be respected and to start working on their issues.