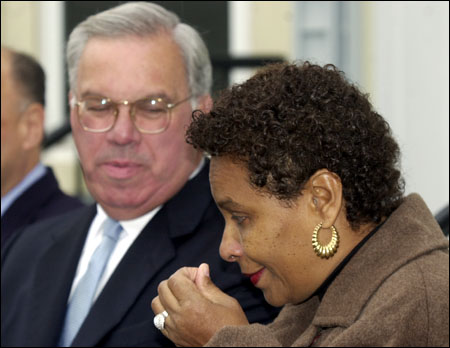 Standing in front of the row of homes on Hano Street in Allston where she has lived since 1966, Minnie Walcott paused for a moment as her voice thickened with tears. "I raised three daughters here, and now my grandchildren come back to visit me," she told the crowd assembled to celebrate the recent renovation of the affordable rental units. "This means a lot to me."
Harvard Vice President for Government, Community and Public Affairs Alan J. Stone joined Boston Mayor Thomas Menino and housing advocates for a ribbon cutting at the newly renovated Hano Homes Thursday (Nov. 21). Harvard contributed $306,126 to the renovation of the 20 rental units – 15 of them "affordable" – through its 20/20/2000 affordable housing partnership, in which the University will invest $20 million over 20 years in Boston and Cambridge.
"Our city is experiencing a housing crisis and more people are struggling to make ends meet. That's why we're working hard to create and preserve affordable housing," said Menino just one day after the Boston City Council rejected a rent stabilization proposal.
Thanking Harvard for its contribution, Menino also commended the University for nearing completion of additional graduate student housing at One Western Avenue, which will free the neighborhood's housing for families, and for its financial commitment to two future affordable housing developments nearby.
"Harvard has been a great partner on these projects," said Menino.
The city's hot real estate market, combined with the current economic downturn, underscores the importance of partners like Harvard to help bridge gaps in services, said Stone.
"We intend to be a world-class neighbor," he said.
Allston Brighton Community Development Corporation (ABCDC), which has owned Hano Homes since 1985, renovated the 20 units, replacing electrical and plumbing systems, reconfiguring walls, and installing new flooring and drywall. Undertaking the renovation also greatly increased the energy efficiency of the units, said ABCDC executive director Robert Van Meter.
At the ribbon cutting, a parade of politicians, funders, and community activists representing an alphabet soup of organizations took turns at the microphone, illustrating the complex partnership that restored the homes. Harvard was one of 10 public and private funders.
Yet no one packed a more emotional punch than Walcott, the longtime resident of Hano Homes. "This is a great street," she said of the diverse community on the narrow, crooked way where she raised her family. "I'm very, very happy to move back in."