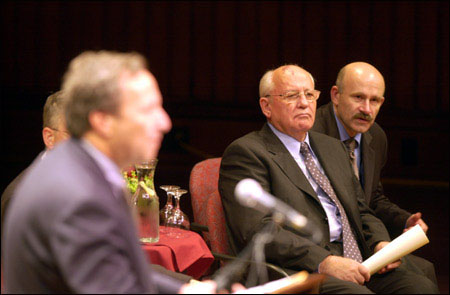 Echoes of the reforms that ended the former Soviet Union are still reverberating in Russia and other former Soviet republics, Mikhail Gorbachev, the Soviet Union's last leader and the man who implemented those world-altering changes, told a packed Sanders Theatre Monday (Nov. 11).
Those echoes continue today despite mistakes made during the process, Gorbachev said in a 45-minute speech, "Looking Back on Perestroika."
Gorbachev, who held power from 1985 until the nation he led came apart in 1991, said mistakes were made both inside and outside the U.S.S.R. Speaking in Russian with a simultaneous translation in English, Gorbachev said the U.S.S.R. should have reformed the relationship with its member republics much earlier and shifted money from defense in an effort to stabilize the consumer market. Together, those changes may have eased the difficult political and economic transition the nation experienced.
Outside the Soviet Union, Gorbachev said, Western leaders were slow to embrace Soviet reformers. And, once the Soviet Union broke up, economic reforms influenced by the West, which Gorbachev termed "shock treatment," were far too harsh, driving many Russians into poverty.
Still, Gorbachev said, he believes that perestroika (restructuring) was a success. A poll taken in 1995, when much of the country was still mired in poverty, showed that almost half believed that perestroika was the right course. Given the economic pain people were feeling at the time, Gorbachev said, he believes that result showed that the people supported the changes. A similar poll, focusing not on economic changes, but on political, cultural, and religious freedom, showed that between 60 percent and 70 percent supported those reforms.
"A lot of things could have been done differently after perestroika. A lot of things could have been done differently during perestroika, but there are no 'ifs' in history," Gorbachev said.
Gorbachev, whose visit was sponsored by the Kathryn W. and Shelby Cullom Davis Center for Russian and Eurasian Studies, was introduced by Harvard President Lawrence H. Summers. Summers said the changes set into motion by Gorbachev resulted in wide-ranging changes around the world. He said today's Harvard students don't remember Cold War school days when civil defense drills were as common as fire drills. Despite its intensity, however, the Cold War ended without the massive bloodshed of other 20th century conflicts.
"There are few people who strode the world stage during the last quarter of the 20th century as likely to take a place in history books," Summers said. "History shaped Mikhail Gorbachev and Mikhail Gorbachev shaped history."
Gorbachev said perestroika and the accompanying policies of glasnost, or "openness," had deep roots in his experience working his way through Communist Party ranks. Gorbachev said he served in local and regional leadership positions before moving onto the U.S.S.R.'s national stage as a member of the Politburo.
"It was a long political road. I knew our political system inside and out. It was the long experience that made me draw the conclusions that I drew," Gorbachev said.
Those conclusions, he said, were that the Soviet system stifled the initiative of its people. He said the launch of sputnik, the first satellite sent into space, which sparked the space race between the Soviet Union and the United States, was an example of what the Soviets were capable of even under the system.
With the repression of dissent that was common during the Soviet era, Gorbachev said perestroika's changes were possible only coming from within the Communist Party. Anyone from outside, he said would have been unsuccessful. Even within the party, reformers knew they were taking a huge risk, Gorbachev said.
Gorbachev also addressed current events, saying the Russian problem in Chechnya is a difficult one. He said he would probably make Chechnya a republic within Russia with special status.
Gorbachev also said that no one nation should dominate the international stage and try to govern from one capital. He hailed recent action by the United Nations Security Council in acting together to try to get weapons inspectors back into Iraq.
In looking back, Gorbachev said, each generation did its best under the circumstances of its time. In fact, he said, if history is measured by the suffering of the people, both the Stalin era, which saw rapid development of science and technology, but widespread repression, and the recent change to a more market economy, during which two-thirds of the nation lived in poverty, had prices that were too high.
The changes set into motion during perestroika have not run their course yet, Gorbachev said. A new generation of Russian youth is growing up and being educated under the greater political and economic freedoms available in Russia today. Those youth will continue the changes as they mature and take power.
"People are asking today whether perestroika has a future or is it in the past. I believe perestroika is still in the future," Gorbachev said. "When I stepped down, people said the era of Gorbachev is over. I replied then and I still reply, 'The era of Gorbachev is just beginning.'"
Transcript of "Mikhail Gorbachev 'Looking Back on Perestroika' "