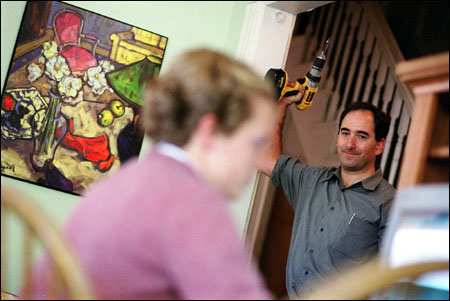 At a modest Victorian home on the Somerville-Cambridge border, Harvard graduate student Kermit Cole is cooking a spinach frittata for dinner.
"Don't use olive oil," cautions one of his housemates, reminding Cole of another's allergy. Cole nods and reaches for the canola while the housemate sweeps the kitchen and takes out the trash.
The scenario – complete with a chilly fall rain and a friendly dog bounding from couch to couch – is classic graduate student living, unremarkable for its similarity to the many shared homes of frugal graduate students near Harvard.
Yet Cole's housemates on Leonard Avenue are not fellow graduate students; they're adults with mental illness.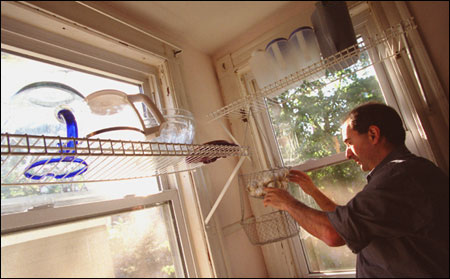 And Cole, the house's live-in director and its only paid staff member, is no typical graduate student. He left a 14-year career in film after completing the acclaimed 1993 documentary "Living Proof: HIV and the Pursuit of Happiness." After working on feature films and Pepsi commercials, he had realized his dream of seeing his name on a marquee for a movie that made him proud.
He moved from New York to the Boston area and completed his undergraduate degree at Harvard Extension School, where he is currently putting the finishing touches on an A.L.M. in psychology.
And earlier this fall, Cole moved into a house with 15 roommates, 12 of whom are battling mental illness.
"I've done a lot of things, but I've never been this happy," he says. "This is a home that I think could be a model for a lot of homes in America."
The house is one of two Cambridge group homes for people with mental illness operated by the nonprofit Wellmet Project, an idealistic but enduring spin-off from a Harvard sociology class more than 40 years ago. Cole and several "volunteers" – part-time staff who live in the houses and facilitate positive group dynamics – make Wellmet unique, says executive director Chuck Zymaris.
"It does a lot to destigmatize mental illness," says Zymaris. Indeed, as Cole preps his frittata, the residents and volunteers coming in out of the rain for the nightly group dinner are indistinguishable.
While the staff members are not mental health professionals and the house is not a treatment site, its rhythms are structured to encourage residents' well-being. Regular participation in group meals, meetings, cooking, and unstructured evening time in what's called "the social milieu" is required of all residents, as is a daily structure that takes them out of the house for work, treatment, school, or volunteer activities.
"It's born of the principle that society is a good thing," says Cole, explaining that isolation is a common – and not usually beneficial – reaction of many people to their mental illness.
One resident, who has lived at the house for two years while she's struggled with acute chronic depression and post-traumatic stress disorder as well as multiple sclerosis, the push into society and the warmth of the house has nurtured her fragile sense of self.
"Isolation is something I do very well. I don't need any encouragement. This has helped me break out of that," she says. "The biggest gift to me has been my fellow residents, just having their love and their company." And Cole, she says, has filled the house with warmth and humanity.
As Cole talks excitedly about his still-new job and living situation, it's clear that the house's impact on his life has been significant, too.
"This is a house whose entire reason for being is to help people lead the best lives they can," says Cole. "What a great place to wake up every day."
The Leonard Avenue house is currently recruiting live-in volunteers. For information, contact wellmet@tiac.com.