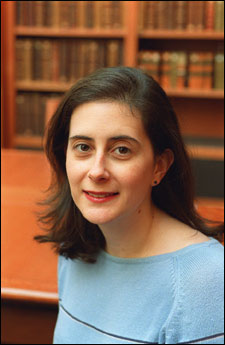 Community Gifts Through Harvard campaign pledge cards have been mailed to Harvard employees. They can be returned to solicitors or directly to the Community Gifts office at 124 Mt. Auburn St. For information, call 617/495-1598. To learn more about the Make-A-Wish Foundation of Massachusetts, visit www.wish.org/boston.
Can a trip to the mall cure cancer? Will a new puppy or a meeting with Donald Duck speed a child's wait for a heart transplant?
Probably not, but Elizabeth Johnson has witnessed the therapeutic power of making a sick child's wish come true.
Johnson, office administrator for the Office of the Librarian of Harvard College Libraries (HCL), has volunteered with the Make-A-Wish Foundation of Massachusetts since 1993, facilitating children's wishes and helping the foundation with special events.
"The good feelings that come from making a wish are never-ending," she said.
Johnson brings her zeal for voluntarism to the annual Community Gifts Through Harvard campaign, serving as the key person overseeing more than 20 Community Gifts solicitors for HCL's 525 employees. This year, Community Gifts seeks to raise $1.1 million for the United Way of Massachusetts Bay and charities such as Make-A-Wish through donations from Harvard employees.
"I always look forward to [the campaign] every year, because it's a total positive for the University," said Johnson, who is in her eighth year coordinating HCL's Community Gifts solicitors. "It's a chance to do volunteer work at work."
Johnson's dedicated service to Make-A-Wish is a testament to her commitment to volunteer work.
"We've been so lucky to have her on board as a wish volunteer," said Make-A-Wish communications manager Amy Haelsen.
A national organization with local chapters, Make-A-Wish grants the wishes of children with life-threatening illnesses. The Massachusetts Make-A-Wish plans to grant 300 wishes of Massachusetts children this year, but Haelsen stresses that the organization never turns away children who qualify to have a wish granted.
"There's this misperception that we pick and choose, but that's not true," she said.
"Wish kids" range in age from 30 months to 18 years old, and their wishes run the gamut. While trips to Disney World are a perennial favorite, dreams of computers, shopping sprees, and celebrity meetings are also popular.
One 15-year-old boy wanted to meet comedian Al Franken '73, and another teenager had a spare room turned into his own "Purple Haze" entertainment pad, complete with purple carpet, Jimi Hendrix posters, and an ear-splitting stereo system. A young girl from Methuen went to Fenway Park and met her favorite Red Sox players, Nomar Garciaparra and Pedro Martinez.
"She spoke Spanish with Pedro and afterward she was trembling," said Haelsen.
For the kids, whose illnesses can turn their lives and their families upside down, Make-A-Wish can reinstate a sense of normalcy.
"While a kid can't control when he'll get a bone-marrow transplant, he can control what he wishes for," said Haelsen. Planning and anticipating something positive injects much-needed hope into lives thrown into chaos.
As a volunteer, Johnson is part of the "wish teams" that work with the children and their families to facilitate the wishes. From prepping kids with travel books in advance of a trip to carrying packages on a mall shopping spree, she's seen wishes touch the lives of children and families.
She recalls one foreign boy who had come to Boston with his mother to undergo lengthy treatments; his wish was to bring his father and siblings to Boston for a family reunion. Johnson made the trip to the airport with them; witnessing the family reunion was very powerful, she said.
Another "wish kid" never smiled, even as Johnson helped her plan her trip to Disney World. "Finally, the day we saw them off at the airport, she smiled," she said. "When she came back, she was grinning ear to ear. In her own way, she was letting us know this was really special."
The average cost for wishes, which include the entire family, is $6,000, of which $2,000 comes from in-kind donations. Haelsen said that through Community Gifts, Harvard employees have helped fund one child's wish.
In her role with Community Gifts, Johnson resists strong-arming her colleagues into earmarking their dollars to her favorite charity, but she knows her enthusiastic voluntarism with Make-A-Wish has an impact. When a friend lost a relative recently, said Johnson, the friend requested that friends and family members make donations to Make-A-Wish in memory.
Yet Johnson admits that Make-A-Wish and the sick children it serves aren't the only beneficiaries of the time and energy she devotes.
"Volunteer work makes me feel good about myself," she said. "If you know that you can make someone feel good, you keep doing it."