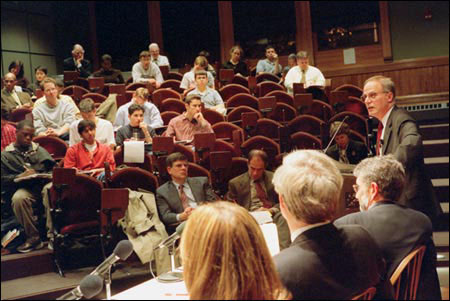 Harvard faculty and students gathered recently for a candid discussion of the Core Curriculum: its strengths, weaknesses, and areas for potential change. The symposium, held Nov. 6, was the first of two community conversations this month. The discussions are part of Faculty of Arts and Sciences Dean William C. Kirby's widespread efforts to examine all aspects of the undergraduate curriculum, the first such major review in almost 30 years. (See http://www.hno.harvard.edu/gazette/2002/10.17/01-fas.html.) Second symposium is set for today
The second symposium – "Curricular Options and Opportunities: Views from Outside Cambridge" – will be held today (Nov. 14) at 7:45 p.m. in Boylston Hall's Fong Auditorium. Michael Stanislawski of Columbia University and Deans Paul Armstrong and Richard Brodhead of Brown University and Yale University, respectively, will lead the discussion. Visit http://www.fas.harvard.edu/home/news_and_events /announcements/symposia.html for more information.
"What does it mean to be an educated man or woman?" asked Jorge Dominguez, Harvard College professor, Clarence Dillon Professor of International Affairs, and one of four faculty panelists at the symposium. Present at the Core's creation in 1978, Dominguez noted key questions that the Core originally aimed to address: What should the Core teach? Who "owns" the Core? How can the Core retain both substance and accessibility for nonconcentrators? "These questions are questions that endure," Dominguez said.
Core courses currently form almost one-fourth of an undergraduate's course load. Students take courses in seven or eight of the 11 Core areas, which span foreign cultures, literature and arts, historical studies, moral reasoning, science, and social analysis.
"These are courses that develop a life of their own; they develop a culture of their own," said panelist Maria Tatar, Harvard College professor and John L. Loeb Professor of Germanic Languages and Literatures. Over the years, iconic courses such as Michael Sandel's "Justice" (Moral Reasoning 22) or Thomas Kelly's "First Nights: Five Performance Premieres" (Literature and Arts B-51) have helped create intellectual communities among students that cut across concentrations.
And yet, 25 years since the Core's founding, do the categories comprising the Core need rethinking? Have the distinctions among Literature and Arts A, B, and C, as they're called, or between History A and B, grown blurry? Does the Core, as a whole, adequately reflect changes in our professoriate, and changes in the intellectual disciplines?
Panelist James Engell, Gurney Professor of English Literature and professor of comparative literature, noted that virtually no student experiences the Core identically with another, given that each student chooses his or her own combination of courses. Are, Engell asked, the larger educational purposes of the Core uniformly achieved? Moreover, students can complete the Core, Engell said, untouched by a number of arguably significant learning experiences.
"It is possible to complete the Core, and to study, for example, no major or canonical author from any literary tradition," he said. "It is possible not to study very large areas of Western history, Eastern history, American history, or world history, ancient or modern."
Engell questioned, as well, whether Harvard unintentionally sequestered the practice of a "liberal arts" education solely within the Core. Because Core courses, but not most departmental courses, are geared toward nonconcentrators, Engell wondered whether liberal arts, in practice, were truly accessible to students outside the Core.
The Core's fundamental purpose, content, and relation to the other parts of a student's education – his or her concentration, electives, study abroad, and other opportunities – will, at the end of Dean Kirby's sweeping review, say much about Harvard's philosophy of education. All the panelists, as well as moderator Benedict Gross, Leverett Professor of Mathematics and dean for undergraduate education, spoke of the "collective thrill," as Dominguez put it, of contemplating a major renovation of the curriculum.
Emerging from the conversation, as well, was a shared, strong sense of the importance of more faculty engaging with students in the Core; the mutual benefits of experts teaching nonconcentrators in their field; and praise for how the Core Program is administered. Every Core course is subject to rigorous review, and the Core Program office provides administrative support that, some panelists felt, equals or exceeds that provided by departments.
Panelist David Pilbeam, Henry Ford II Professor of Social Sciences, noted some changes he's seen in student attitudes toward the Core, over 15 years of teaching. Increasingly, he found, some students seem to expect Core courses to be both easier than non-Core courses, and more easily graded, neither of which proves to be true. He noted his continuing commitment to the "student-teacher contract": "You put your soul out there every time," he said of his approach to teaching.
Panelists urged students to write to Deans Kirby and Gross during this vital process of gathering feedback from students, faculty, and alumni. The deans plan to form task forces by the end of the current term, to intensively review different areas of the curriculum.
On Nov. 14, the Office for Undergraduate Education will hold its second symposium, titled "Curricular Options and Opportunities: Views From Outside Cambridge." This evening event, which is open to the Harvard community and will be Webcast live http://www.fas.harvard.edu/home/news_and_events/webcast/index.html, will feature Paul Armstrong, dean of the College at Brown University; Richard Brodhead, dean of Yale College; and Michael Stanislawski, professor of Jewish History at Columbia University. These guest speakers will share their thoughts about how undergraduate curricula are structured at their schools.
"I very much value the thoughts that emerged from our discussion on the Core Curriculum," said Dean Kirby. "The views of our colleagues from Yale, Brown, and Columbia will, I hope, generate even more probing discussion about this most central of our concerns: what do our students need to know, and how best can we teach them, in the first quarter of the 21st century? I look forward to our next conversation."
For the archived Webcast of the Nov. 6 symposium, click on: http://athome.harvard.edu/programs/curriculum/curriculum1.html. For the schedule of November symposia, see: http://www.fas.harvard.edu/home/news_and_events/announcements/symposia.html.