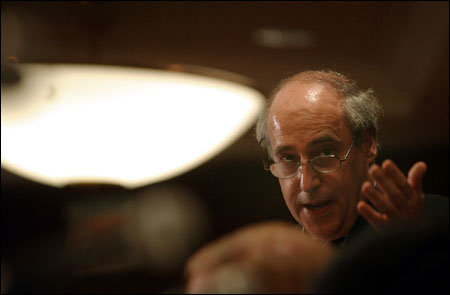 Corn, butterflies, and the media were center stage at the John F. Kennedy School of Government on Nov. 21 at a conference that examined the media's role in keeping the public informed – or frightened – about the growing presence of biotechnology in food production.
The conference, sponsored by the Kennedy School's Joan F. Shorenstein Center on the Press, Politics and Public Policy, and the Pew Initiative on Food and Biotechnology, brought together scientists, journalists, industry representatives, and academics to examine the role the media has had in the hysteria and hype around the issue.
Several panelists were critical of reporting that highlighted the sensational aspects of scientific findings that genetically modified corn could kill Monarch butterflies and reports of genetic "pollution" of Mexican corn from genetically altered U.S. corn across the border. Others, however, praised the handling of cases such as the 2000 disclosure that modified StarLink corn – approved only for animal feed – had reached the nation's food supply.
"The science is moving very, very fast and everyone is running to catch up," said Andrew Marshall, editor of Nature Biotechnology, a panelist who discussed the controversy around genetically modified corn. "Mistakes are going to be made."