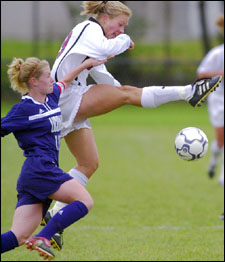 Despite some heavy-duty protection by the aptly named Katie Shields '06, Dartmouth women's soccer (15-2-1, 5-1 Ivy) slipped by a visiting Harvard team this past weekend to take a 1-0 victory. The win marked a league-leading 11 straight for the Big Green, which can secure a share of the championship with a win over Pennsylvania on Nov. 9.
Shields, a freshman, limited the damage with eight key saves to keep Harvard within striking distance. Yet the game's lone goal – scored off a rebound in the early going of Sunday's contest by Dartmouth senior forward Devon Haskell – proved to be the clincher.
The defeat hands Harvard its second straight loss against a worthy opponent. On Oct. 30, the Crimson dropped a 3-1 decision against the No. 9 nationally ranked University of Connecticut Huskies. Knocked out of the Ivy title race, the Crimson (7-7-1, 3-2-1 Ivy) remain in the hunt for an at-large bid to the NCAA Tournament.
Rookie Shields guards the net against the struggling Columbia Lions (5-9-2, 0-4-2 Ivy) on Saturday (Nov. 9) at 1:30 p.m. in the Crimson's regular-season finale.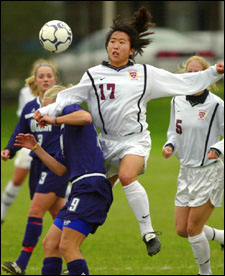 The Big Green also bounced the men's squad, 2-0 on Nov. 3. In the team's final home game, the Crimson (8-5-1, 2-2-1 Ivy) host Columbia on Nov. 9 at 11 a.m., before traveling to Penn a week later.