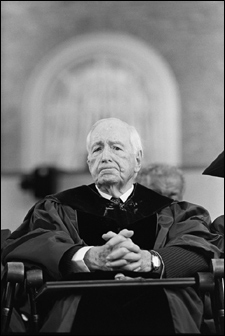 Walter H. Annenberg, businessman, statesman, philanthropist, and Harvard benefactor whose donations helped finance undergraduate scholarships and the renovation of Annenberg Hall, died Tuesday (Oct. 1) at his home near Philadelphia from complications due to pneumonia. He was 94.
"Walter Annenberg was a respected international statesman, entrepreneur, and philanthropist to many important educational initiatives," said Harvard President Lawrence H. Summers. "He was a great and generous friend to Harvard and will be missed."
Annenberg, who received an honorary doctor of law degree from Harvard in 1996, cut a broad swath through American life. He owned varied media outlets through his family-owned firm, Triangle Publications Inc. Among Triangle's holdings were the Philadelphia Inquirer, TV Guide, Seventeen magazine, and several radio and television outlets.
His business savvy brought him great wealth, but Annenberg used much of that wealth to help others, donating more than $2 billion to various charities. Education was a favorite charity and, in 1993, he donated $500 million to further public school reform and another $365 million to four schools, including Harvard, the University of Pennsylvania, the University of Southern California, and his prep school, the Peddie School in Hightstown, N.J.
From 1969 to 1974, Annenberg played a more formal role in public life, serving as ambassador to Great Britain. In 1986, he was awarded the nation's highest civilian honor, the Medal of Freedom. He also won the George Foster Peabody Award in 1987 and, in 1992, was inducted into the Broadcast Pioneers Hall of Fame.
The 1993 donation of $25 million to Harvard College transformed Annenberg Hall into a dining hall for first-year students and established an undergraduate scholarship fund. Both are named for his late son, Roger, class of 1962, who died before graduating. Another portion of that donation was used to establish undergraduate seminars. Over the years, Annenberg has also contributed to the Harvard College Fund, the Kennedy School of Government, the Law School, and the School of Public Health.
Former Harvard President Neil L. Rudenstine said in 1993 that the Annenberg gift was "one of the most significant acts in the long history of American philanthropy. Harvard is privileged to be part of the ambassador's bold and extraordinary initiative to strengthen education in our society."
Annenberg leaves his wife, Leonore Rosensteil Annenberg, and a daughter, Wallis, as well as two sisters, seven grandchildren, and six great-grandchildren. Funeral services are private.