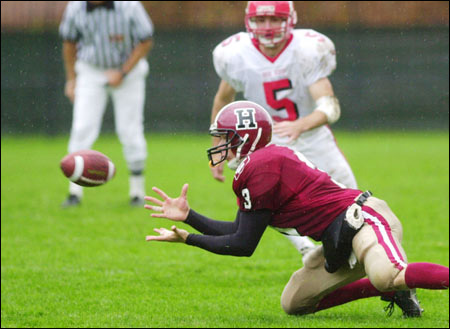 Showing that it's not how much time you have, but rather how you use it, the Harvard football team effectively KO'd Cornell this past Saturday (Oct. 12) at the Stadium, 52-23. In just over 24 minutes of possession, the Crimson amassed a whopping 553 yards on their way to scoring seven touchdowns. The Big Red, on the other hand, who never took the lead despite controlling the ball for 35 minutes, collected 368 total yards. Still perfect in the Ivy League at 2-0, the win extends the Crimson's Ivy streak to nine games (matching the standing record set in the 1983-84 season), leaving the Harvard gridders non-too-shabby at 3-1 overall.
Filling in for an injured Neil Rose, sophomore quarterback Ryan Fitzpatrick didn't disappoint in his second straight start. Without a single pick-off, Fitzpatrick completed 24 of 32 tosses for 353 yards, while conspiring for three touchdowns with a trio of receivers in Brian Edwards '05, Carol Morris '03, and Kyle Cremarosa '04. The 6-foot 3-inch playmaker also rushed for 64 yards to lead all Crimson. His 417 total yard output was just 9 yards shy of the Harvard record, set by Rose in the 2000 season.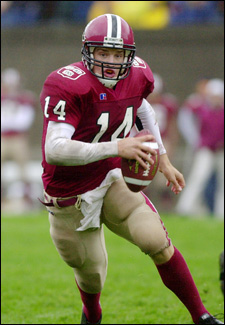 On the receiving end, sophomore Edwards caught three passes for 62 yards. His 23-yard grab in the opening quarter marked not only the game's first score, but Edwards' first career touchdown reception as well. In another near-routine performance, Morris grabbed 11 passes for 165 yards, including a 54-yarder for a touchdown, while Cremarosa seized a deflected pass intended for teammate Rodney Byrnes '05 for a 27-yard touchdown.
With Harvard carefully nursing a 14-10 edge early in the second quarter, Byrnes set off a Crimson onslaught with an 89-yard kickoff return. The sophomore receiver's mad dash to the end zone typified Harvard's huge playmaking for the rest of the game. And though Cornell managed to play keep-up through the first half, cutting the lead to a respectable 24-17 at the break, the Crimson's clockwork execution in the remaining two quarters – from junior Dante Balestracci's fourth-quarter interception to Harvard's 21 unanswered points – made it clear that the Big Red's time was up.
Harvard hosts neighboring Northeastern on Saturday (Oct. 19) at 1 p.m. Ranked No. 14 in the ESPN/USA Today poll, the Huskies are currently 5-1 for the first time in 35 years.