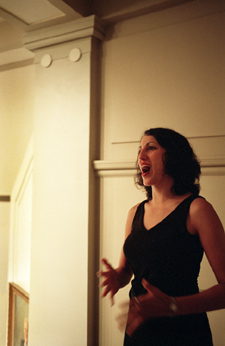 People have come up to Shanel Nand with tears in their eyes to tell her how moved they were by her singing.
"I can't even describe how I feel when that happens" she says. "It's so rewarding to have touched people like that."
Nand has been singing since she was a little girl. Her mother sang opera as well, and both parents encouraged her musical aspirations.
"They were both supportive from day one. They always encouraged me to express myself and to take risks. That's the key, I think. You really have to give of yourself to make the production come alive."
This past June, Nand got some additional encouragement when she was selected as a participant in Placido Domingo's World Opera Contest in Paris. She didn't win, but meeting the famous tenor and hearing him say he enjoyed her performance was the thrill of a lifetime.
Nand combines her singing career with a full-time job at Harvard Medical School. She works in the Office of Educational Resources helping to implement courses on doctor-patient relations. The courses are aimed at helping beginning doctors fine-tune their bedside manner, develop rapport with patients, discuss treatment options, give them bad news. As a performer, Nand can empathize with what the students are going through.
"I definitely admire the medical students for taking on that challenge. When they first start out, they're relying on instincts, flying by the seat of their pants."
When work is over, Nand travels to Needham to rehearse with fellow members of the Longwood Opera Company in the basement of Christ Episcopal Church. She opens Nov. 1 as Pamina in Mozart's "The Magic Flute" a role her mother sang in a college production. It is the sixth opera Nand has sung with the company, and she is grateful to musical director Jeffrey Brody and general director Scott Brumit for giving her the chance to perform. But singing her heart out after a full day's work can be tough.
"There are times when I wonder, why do I do this? What keeps me going? I guess it's just that for me performing opera is such a magical experience."
When she's not singing or working, Nand tries to get others to share the magic. She knows that many people are put off by opera's highbrow image, but she believes they would come to love it as she does, if only they would give it a chance.
"I just tell people, try it at least once. If you hate it, fine, but at least you've had the experience."